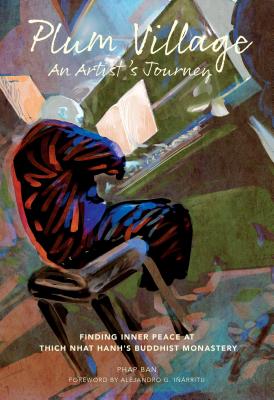 Plum Village
An Artist's Journey: Finding Inner Peace at Thich Nhat Hanh's Buddhist Monastery
Paperback

* Individual store prices may vary.
Description
Discover the life-changing spiritual world of Thich Nhat Hanh's Plum Village in this poetic and inspired graphic memoir.

This one-of-a-kind graphic novel is at once a touching memoir, a reflection on the beauty of life in all its most surprising and awe-inspiring aspects, and a tribute to Plum Village, the meditation center founded by world-famous spiritual master Thich Nhat Hanh in the South of France. Through his inspired storytelling and graceful paintings, author Phap Ban tells the story of his journey in pursuit of happiness and self-acceptance, from successful Disney artist and writer to monk at the Plum Village international community of spiritual seekers and peace activists. Visually striking and deeply poetic, each page of Plum Village: An Artist's Journey is a beautiful guide to the teachings of Thich Nhat Hanh and a testimony to his profound spiritual legacy as seen through the eyes of a devoted disciple.
Praise For Plum Village: An Artist's Journey: Finding Inner Peace at Thich Nhat Hanh's Buddhist Monastery…
"What Ban has created with 'Plum Village' is a visual love letter not just to Plum Village, but his journey while there. Somehow in riotous colors he captures the heart of stillness. With a beautiful montage of imagery, he demonstrates depths of gratitude. Never underestimate the power of images paired with words… Ban's 'Plum Village' evokes heartfelt emotions that on one occasion brought a tear to my eye.

This uptick in graphic novels in the mind, body, spirit genres is greatly welcome. Particularly if works like 'Plum Village' are indicative of what we can expect."


— The Magical Buffet
Mandala Publishing, 9781683836407, 132pp.
Publication Date: April 23, 2019
About the Author
Born in Genoa in 1960, Phap Ban started to publish comic books for Furia, Intrepido, and other magazines during high school. He worked as a freelance illustrator during university, and then, at twenty-four, he discovered meditation. This ultimately led him to Vietnamese Zen master Thich Nhat Hanh and the monastery he founded in France, Plum Village. Ban lived in Plum Village for ten years, first as a layman, then as a monk. He received complete ordination in 2010. When he returned to Italy in 2013, he resumed his creative work, this time as an artist for Disney. He has also taught courses at the Academy of Fine Arts in Genoa and at the Lecce School of Cartoon.