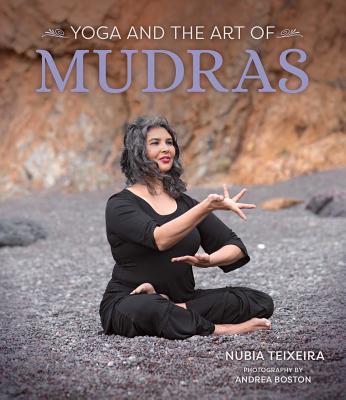 Yoga and the Art of Mudras
Paperback

* Individual store prices may vary.
Description
A unique yoga guide that fuses traditional asana with mudra and storytelling from the bhakti yoga tradition

Yoga and the Art of Mudras is a guided journey into the alchemy of asana (yoga pose) and mudra (symbolic hand gesture). Brazilian-born yogini, dancer, and author Nubia Teixeira has been practicing and teaching traditional yoga and classical Indian Odissi dance for over twenty-six years. In this book, she fuses her passion for yoga and dance with her love for bhakti (devotion). In so doing, she has created a unique and contemporary yoga system that encompasses all three healing arts.

Through beautiful photographs of each yoga pose, Nubia guides the reader in a meaningful union of hand gestures with asanas. Drawing, in particular, on expressions and hand gestures found in Indian dance, these newly developed poses will help transform a person's hatha yoga practice into an embodied devotional and artistic yogic experience.

Nubia's yoga-mudra system combines expressions that are deeply rooted in the heart of traditional yoga, classical Indian Odissi dance, and inspirational bhakti yoga storytelling. Honoring the gifts of all three systems, Nubia Teixeira shares a didactic, beautiful, and truly original voyage into the heart of devotional yoga practice.
Praise For Yoga and the Art of Mudras…
"If you think you understood yoga—think again. In this elegant volume of thoughts and images, Odissi dance master Nubia Teixeira reveals the power of mudras to awaken and unite our many disparate selves. An overlooked component of complete yoga practice is finally receiving its due. A must-read for serious yogis."


— Joshua Greene, author of "Gita Wisdom"

"The hands are extensions of the heart, reflecting what is in your heart. Mudras tell stories with the hands. Nubia's hands express the celestial stories and songs of her innermost heart—the eternal abode of Divine Love where God and the soul dance in ecstatic delight. Nubia is an other-worldly apsara who has taken birth amongst us mortals—to show us the keys to the heart of heaven and how to open the secret door. This is an incredibly important book"




— Sharon Gannon, founder of Jivamukti Yoga

"A beautiful book, full of gestures of embodied understanding and refreshing postures that can enhance your yoga and deepen your practice as an act of devotion and love."


— Jack Kornfield Author, Buddhist practitioner and one of the key teachers to introduce Buddhist mindfulness practice to the West.

"Nubia Teixeira's offerings bring the inner art of mudras from Odissi Temple Dance into a pioneering, fully embodied yogic expression. Steeped in her lifelong experience of the Bhakti and Hatha Yoga traditions, Nubia has created a truly classic mudra book to treasure and draw from for the rest of your life. Blessings to Nubia and to all who are awakened by this extraordinary gift."


— Shiva Rea, yogini, author Tending the Heart Fire

"Just as we use our voices to chant the sacred name, so we can use our hands to deepen our meditation in the form of these sacred mudras. Nubia is our guide on a beautiful journey into this ancient wisdom. She shares with grace, wisdom, knowledge and passion - such a blessing!"


— Deva Premal - Musician and Meditative Mantra Muse.

"With her gracefulness, warmheartedness and depth, Nubia shares her creatively inspired integration of the extraordinary ancient artistic traditions of yoga and classical Indian dance."


— Tara Bennett Goleman, Author of Emotional Alchemy

"Being in Nubia's presence and learning from her, I have felt what is so evident in this book, a rare, authentic embodiment of the sacred feminine—tender, strong, and wise. Through these practices, Nubia entrains the reader into a direct experience of the magic and art of these powerful meditative traditions—deepening our own exquisite capacity for embodied awareness."
— Myla Kabat-Zinn, Co-author, Everyday Blessings: The Inner Work of Mindful Parenting

"This book is a gift to the yoga world. It brings with it important treasures of deeper yoga, and shares them in a way that is accessible, beautiful and inspiring. I hope all yoga teachers and many others will enjoy this book, and deepen their own practice and teaching in powerful ways. Highly recommended!"


— Mariana Caplan, PhD, MFT, author of Yoga & Psyche: Integrating Yoga & Psyche for Healing, Transformation, and Joy and Eyes Wide Open: Cultivating Discernment on the Spiritual Path

"I would recommend this book to all spiritually aligned yoga enthusiasts. It is perfect for anyone looking for a way to beautifully express themselves and honor what gave them life. The artistic expression that Teixeira displays in Yoga and the Art of Mudras is gift to the spiritual world and to those seeking alternative ways of worship."
— Facing North
Mandala Publishing, 9781683836445, 200pp.
Publication Date: June 18, 2019
About the Author
Yogini, dancer, and author Nubia Teixeira was born in Brazil and has been practicing and teaching traditional yoga and classical Indian Odissi dance for over twenty-six years. Nubia is founder of the Bhakti Nova School of Yoga and Dance and leads classes, workshops, and teacher-trainings internationally, independently, or in collaboration with her husband, kirtan artist Jai Uttal. Nubia lives in Fairfax, California, with Jai and their son, Ezra.