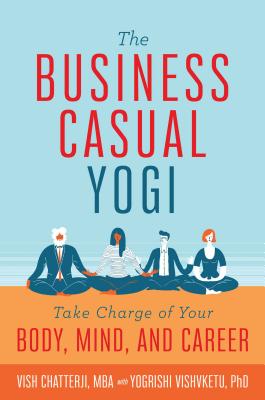 The Business Casual Yogi (Paperback)
Take Charge of Your Body, Mind, and Career
Mandala Publishing, 9781683836872, 336pp.
Publication Date: November 5, 2019
* Individual store prices may vary.
Description
This accessible book distills the yoga tradition into a powerful methodology for integrated well-being within the context of the hectic modern world.

The Business Casual Yogi makes the practice and philosophy of yoga accessible to the modern professional. Yoga has long been embraced by the Western world for its physical, mental, and spiritual benefits—combining lifestyle philosophy with rewarding physical exercise for internal and external strength, focus, and calm. As yoga pervades mainstream society, its philosophies, frameworks, and techniques are proving increasingly relevant to the modern business world's obsession with personal leadership development.

This practical guidebook provides accessible methods to leverage the yoga tradition as a tool to unlock one's fullest creativity, leadership potential, and overall well-being. Filled with physical and mental exercises, personalized guides for diet and lifestyle, and tools such as meditation and breathing exercises, The Business Casual Yogi's simple framework will help you attain greater happiness, balance, and success.

The authors—a successful California technology entrepreneur turned executive coach and a world-renowned Himalayan yoga master with a doctorate—have created a practical approach to attaining a better lifestyle without needing prior yoga experience. They leverage their understanding of the needs and priorities of the busy modern professional to present a simple and relatable approach to changing your life through yoga.
About the Author
Vish Chatterji is an accomplished business leader turned executive coach with a twenty-year business track record spanning multiple industries. In parallel, he has studied and practiced yoga, meditation, and Ayurveda (mind-body medicine). Vish coaches business leaders, enabling them to cultivate more of their greatness at work. He holds a bachelor's degree in mechanical engineering from Northwestern University and a master's of business administration from the University of Michigan. Vish is a certified executive coach, yoga teacher, meditation instructor, and Vedic counselor and is a publicly elected board director for the Beach Cities Health District in California. He is a married father of three and loves to garden, bicycle, and fix things around the house!

Yogrishi Vishvketu (Vishva-ji) holds a PhD in yogic science from Gurukula Kangri, the Sanskrit University of Haridwar. Vishva-ji is committed to offering holistic yoga workshops internationally and incorporating diverse aspects of yoga into his practice: asana, pranayama, cleansing kriyas, Ayurveda, and Vedic mantra. He created the Akhanda Yoga system, meaning "whole and indivisible." He founded Anand Prakash Yoga Ashram in 2007 in Rishikesh, India, where he lives and teaches six months of the year.

Hal Sperlich was the chief architect behind two of the most significant American cars ever built; the Ford Mustang and the Chrysler minivan.
Praise For The Business Casual Yogi: Take Charge of Your Body, Mind, and Career…
This is a very important read for those interested in merging their yoga practice and spiritual values with the business world. I highly recommend this as another look on how we can cope with the vastly changing landscape of the financial situation worldwide, and being able to apply yogic and ancient Ayurvedic understanding to the mix."


— Sridhar Silberfein, Founder of Desert Essence, Founder & Executive Producer of Bhakti Fest, Director of Center For Spiritual Studies

"As a successful executive from the business world, having undergone extensive Yogic training, Vish offers a very credible, articulate and thoughtful approach to improving the quality of our professional lives by appropriately leveraging the principles of yoga in a business context."


— Kash Rangan, Managing Director, Bank of America

Words do not have the capacity to express my love and respect for Yogrishi Vishvketu and Vishwajeet Chatterji. They have the ability to bring the Heavens to the Earth, and the Earth to the Heavens. That Divine balance I have felt every time I have been in Yogrishi Vishvketu's class. His sense of humor and his prayerful skills as a yogi are unsurpassed. His gift of Seva to his School for Children uplifts and inspires me to serve more.


— Gurmukh Khalsa, Cofounder & Director of Golden Bridge Yoga Center, Los Angeles, Master of Kundalini Yoga

A thoroughly enjoyable read. As a business professional, who has not had much experience in yoga, I was curious to learn the connection. Ultimately, The Business Casual Yogi, delivers on its promise of helping one take charge of mind, body and career. The frameworks practiced in The Eight Limbs of Yoga were extraordinarily helpful in laying out a path for success in business and Life!"


— Erik Moreno, Executive Vice President, Corporate Development and M&A at Sony Pictures Entertainment

I loved this book and will read it again. The authors beautifully blend practical and spiritual advice on how to be our best, whole selves. This book is packed with wisdom and is a must-read for my teams.


— Kahla Broussard, Vice President of Retail Operations, Sephora

A few books and thought systems deeply shaped my career and personal choices. The 4 Hour Work Week helped me break some business school habits. Crucial Confrontations helped me navigate challenging personal and professional relationships. Ikkyu's poems taught me that spiritualism and fun are not mutually exclusive. The Business Casual Yogi connected all of these dots in a delightful and completely unexpected way. Vish and Vishvketu explain the Vedic knowledge system through relatable personal anecdotes and practical questions that force self-reflection and pierce the veil surrounding yoga as a practice. Read this book if you want to achieve greater balance in your life.


— Ohad Zeira, Vice President Fleet Ventures, Avis Budget Group

Yogrishi Vishvketu and Vish Chatterji have written an excellent book that makes the ancient wisdom tradition of Yoga accessible to a modern audience who may be engaged in the world of business and technology. They are ideally suited to write this book, given Vish has a background in business, technology entrepreneurship and executive coaching. Yogarishi is well steeped in a traditional lineage of yoga teachers based out of Rishikesh which I often think of as the world capital or Silicon Valley of yoga traditions. The result is this book that takes an ancient, sophisticated, and very practical wisdom tradition and makes it relevant to a modern day professional audience that is interested in incorporating different elements of the vast philosophy of yoga into their lives and find success, meaning and fulfillment in their personal and professional lives.


— Gopi Kallayil, Chief Evangelist, Brand Marketing, Google - and Author of The Internet to the Inner-net and The Happy Human

This book is an invaluable guide for anyone seeking to strengthen their mind-body-soul connection in a hyper-active modern world. When I first met Vish, I was chronically fatigued, constantly stressed, and my mind couldn't shut off. After incorporating the principles and techniques into my daily practice, I saw radical improvements to my mental, emotional, and physical health and in my leadership performance. This book has empowered me to take control and live my life from a place of gratitude, grace, and authenticity.
— Zeina Charara, Senior Vice President of Finance, FabFitFun

The teachings of The Business Casual Yogi have helped me become a better person and leader. We all know the "what" - that yoga is good for us. For an engineer like me, I needed the "why" and the "how". This book illustrates that and helps create a roadmap to achieve balance between body, mind and career success.


— Tuhin Halder, Vice President of Finance & Operations, Comcast Corporation

In today's evolving business climate, we must be balanced and flexible. This book provides a practical and traditionally proven approach to personal and professional transformation from someone who actually lives it.
— Tom Bakaly, Chief Executive Officer, Healthcare Industry

Vish is a true Shaman in business clothes. He has provided me with invaluable wisdom over the years and now, he and Vishvketu have written a book that is perfect for our times. The Business Casual Yogi is an easily-digestible guide to balancing the pressures of life through yoga. It is an essential read for today's executives.


— Jordan Berke, Founder, Tomorrow Retail, Former Vice President Walmart eCommerce

An absolute treasure!! Vish delivers a powerfully eloquent and timely formula for today's business leaders to truly succeed. Utilizing age old proven methodologies that he articulates in an easy to understand manner, business leaders can now easily implement these simple yet profound strategies to design and live a life that provides fulfillment and achievement. This book is a must-have companion for every business professional who wants to experience the most from life both professionally and personally!


— Heidi LaGumina, Master Platinum Results Coach, Robbins Research International, Inc.

This book is great innovative guide for self improvement! I would recommend it to everybody who would like to get more balance in their life. By observing our inner state can give us more awareness, joy and success. If you would like to improve your performance in life and work, this book is a great support to achieve this aim.


— Agnes Kovacs, Olympic Champion Swimmer, Executive Coach

Business Casual Yogi is a perfect template for Personal Growth, Leadership and Transformation. Yogrishi Vishvketu & Vish Chatterji have designed a program that will change your body, mindset and decision making. This is a seamless integration of Vedic Sciences for Enlightened Living. Kudos!


— Dr. Suhas Kshirsagar BAMS, MD (Ayurveda) and Author of The Hot Belly Diet: Change Your Schedule Change Your Life

Eight years ago, when my wine brand was just a figment of my imagination, Vish facilitated a deeper dive into not just the brand but also my "existential thrive" within the brand. He was indeed born a teacher. This book is a "udyam-veda" (a business treatise) - not a light read, but a systematic and prolific insight into an ancient philosophy that can shape a dynamic future.


— Neeta Mittal, Founder LXV Wines

As a business executive living an intensely busy life across multiple continents, I have struggled to 'make sense' of my life and work and what I seek to achieve. As I read this book, I found a clarity that was both comforting and enlightening. I was able to connect with a holistic element of my being and purpose, using the teachings of ancient Indian philosophies articulated in the context of our modern world. I invite you to experience the book for yourselves because as Vish and Vishvketu say, after reading this book "you'll seek to unlock your intuition so that you rely on your own inner teacher to make the right choices for you.
— Shailabh Atal, Director Business Transformation, Verizon

For those professionals looking to take their business and their personal lives to the next level, Vish has provided all the necessary tools and ingredients for your journey. Truly a book that personally inspires through introspection and one you will want to continually refer too.


— Jim Schlager, Principal, Moss Adams Wealth Management

Thank goodness someone has made yoga philosophy accessible to everyone in the 21st century. Some may think yoga philosophy is for people who live in caves without the worries most of us living in this mad world now have. On the contrary, we need yoga philosophy even more. The Business Casual Yogi beautifully translates yogic wisdom and practices into an easy to understand guide enabling us to shine our light as we negotiate our life and career in modern day chaos.


— Anandi, Author of Breathe Better Sleep Better, Founder, The Sleep Guru