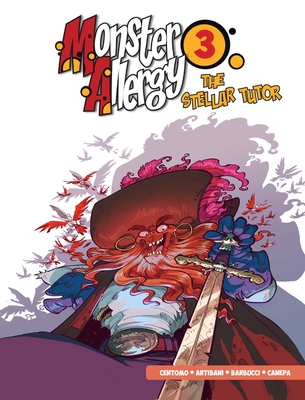 Monster Allergy, Vol. 3
The Stellar Tutor
Paperback

* Individual store prices may vary.
Description
Join Zick, Elena, and Elena's friend Charlie Shuster as they go head-to-head with more monsters than ever before in this exciting third volume!

In this thrilling third installment of Monster Allergy, Zick and Elena return from summer vacation to start a new school year and continue their incredible adventures in Oldmill Village, a hideaway for all kinds of ghosts and monsters. Now these friends will have to face bullies, homework, and tests on top of Oldmill's usual monster shenanigans—including a new group of monsters that has just moved in next door!

Then, when Elena's best friend, Charlie Shuster, comes to town, Zick is left feeling jealous. Like Zick, Charlie can see monsters, but otherwise the two couldn't be more different. However, when a school field trip turns into a submarine adventure and Zick must escape from aquatic phantoms, Zick and Elena learn that Charlie isn't quite what he seems. In this village full of monsters, anything can happen!
Insight Kids, 9781683837183, 96pp.
Publication Date: February 4, 2020
About the Author
Francesco Artibani is an Italian writer of comics and cartoons. He worked as a screenwriter for Disney Italy for 15 years, producing stories such as Topolino, X-Mickey, and W.I.T.C.H. He has also edited Italian editions of comics such as Bone, Elfquest, and Simpsons.

Katja Centomo is written for a number of children's cartoons, comics, and fiction books in Italy. She is most well known for her work on the internationally successful comic series, Monster Allergy, in addition to her graphic novel series Lys and her fiction works, Tilly Duc and Franca Viola.

Alessandro Barbucci is a comics artist who has worked on a number of international comic series, including Monster Allergy, Sky Doll, and the award-winning series W.I.T.C.H., which has sold more than 50 million copies in more than 100 countries.

Barbara Canepa is an Italian cartoonist who has worked very closely with Alessandro Barbucci for Disney Italy and properties such as W.I.T.C.H., Sky Doll, and Monster Allergy.