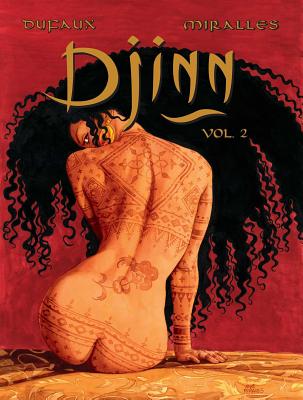 Djinn, Vol. 2 (Paperback)
Insight Comics, 9781683837206, 104pp.
Publication Date: June 11, 2019
* Individual store prices may vary.
Description
Love and politics collide in this seductive adventure as two women find themselves entangled in a race to unearth the legendary lost treasure of the last Sultan!

In present day Turkey, Kim Nelson continues her quest to recover the rumored long-lost treasure of the Ottoman Empire that only her grandmother, Jade, had the power to find. But Kim has inherited the powers of her alluring ancestor—powers that hold the key to a treasure that no one has ever laid eyes on; the powers of a djinn. Now, following her escape from Turkey's last remaining harem, Kim is finally ready to unlock the secrets of her heritage.

However, Kim Nelson was not the first in her family to seek the treasure. Back in the early twentieth century, Jade has been kidnapped by Lord Nelson in his efforts to retrieve his wife from the depths of the Sultan's harem. It's not long before the captive falls in love with the captor, and the pair experiences an unprecedented passion. Now having stolen the hearts of both Lord and Lady Nelson, Jade will do whatever it takes to protect their love, even if it means stealing the great treasure of the last sultan.
About the Author
Jean Dufaux is a prolific Franco-Belgian comic book writer who has been creating comics for over 40 years. Dufaux has produced a massive body of work comprised of over 200 titles that have been wildly successful, selling millions of copies and garnering numerous prizes and awards. His works have been published around the world in a dozen or so countries and translated into multiple languages.

Ana Miralles started her career as a comic illustrator in 1982 and has since been published in multiple magazines across Europe. Her work has won awards in several countries such as Spain, Portugal, Italy, and France, including a Prix Haxtur award for her work on Djinn.