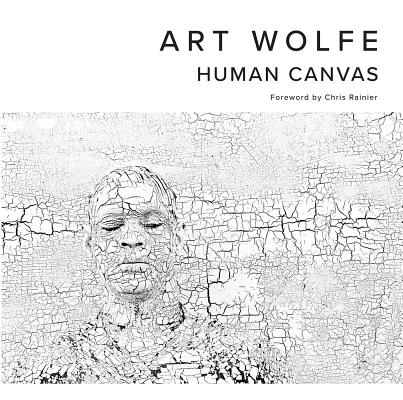 Human Canvas (Hardcover)
Earth Aware Editions, 9781683838197, 180pp.
Publication Date: November 5, 2019
* Individual store prices may vary.
Description
Human Canvas combines Wolfe's world-famous photography with his exquisite painting to create a groundbreaking collection of body art.

What does it mean to be human? In Human Canvas, Art Wolfe uses his exceptional photography and his background in fine-art painting to transform skin into an abstract landscape. Inspired by the body-painting traditions of indigenous peoples Wolfe has photographed worldwide, and particularly those in Ethiopia and Papua New Guinea, Wolfe set out to present his own take on this art form and explore concepts of universal beauty. Through the use of lines, patterns, textures, and unusual points of view, Wolfe abstracts the human form and creates a unique and captivating look of the human body as art. The result is an energized expression of both artistic mastery and cultural impact.

Over his expansive career, Wolfe has traveled to every continent. He has ventured from 19,000-foot heights on Mount Everest to the Danakil Depression in Ethiopia, 410 feet below sea level, as well as deep into sacred lands on the Tibetan Plateau, the Indian subcontinent, and the desert Southwest. He has visited indigenous tribes deep in the Amazon rainforest, high in the Baliem Valley in Western New Guinea, and in Ethiopia's arid Omo River valley. Each new group of people he connected with showed him that, despite our cultural differences, inside we're all just human. Through this fearless effort by a photographer uniquely qualified by study and life experiences in the cultural and artistic worlds, Wolfe manages to universalize the concept of human beyond race, gender, politics, or any other differentiating feature.
About the Author
Award-winning photographer Art Wolfe has worked on every continent and in hundreds of locations over the course of his forty-year career. His stunning images interpret and record the world's fast-disappearing natural treasures and are a lasting inspiration to those who seek to preserve them. Wolfe's photographs are recognized throughout the world for their mastery of color, composition, and perspective, and his photographic mission is multifaceted--art, wildlife advocacy, and journalism all inform his world. Human Canvas is a synthesis of his talents and expertise, marrying his background in the arts and painting with his photographic skill and firsthand knowledge of indigenous cultures. His other works include Earth Is My Witness, Trees, and Migrations.