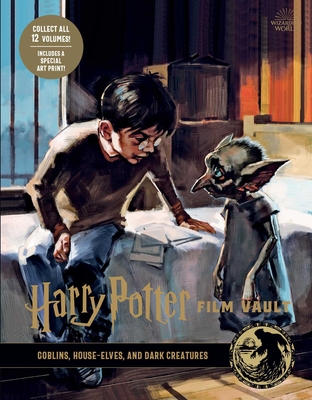 Harry Potter
Film Vault: Volume 9: Goblins, House-Elves, and Dark Creatures
Hardcover

* Individual store prices may vary.
Other Editions of This Title:
Hardcover (8/4/2020)
Hardcover (8/4/2020)
Hardcover (5/5/2020)
Hardcover (9/7/2021)
Description
Discover the filmmaking secrets of the goblins, hardworking house-elves, Dementors, and so much more.

The Harry Potter films are packed with creatures by turns fascinating and fearsome, from the goblins of Gringotts to the Dementors of Azkaban. With detailed profiles of each creature that include concept art and behind-the-scenes photography, this volume gives fans an in-depth look at Dark creatures, such as the Basilisk that resides in the Chamber of Secrets, as well as house-elves and other working creatures.

Harry Potter: Film Vault compiles the filmmaking secrets and visionary artistry behind the Harry Potter films into a series of twelve deluxe collectible volumes. Intricately designed and packed with concept art and unit photography from the Warner Bros. archive, each volume in the series gives fans striking insights about bringing the Wizarding World to the big screen.

Included in each book is a collectible art print, making this series a must-have for all Harry Potter fans and collectors everywhere.
Insight Editions, 9781683838333, 64pp.
Publication Date: May 5, 2020
About the Author
Scott Campbell, sometimes known as Scott C., is the creator of the GREAT SHOWDOWNS online series and Double Fine Action Comics. He was art director and concept artist at Double Fine Productions on such games as Psychonauts, Brutal Legend, and Broken Age. His illustrated picture books include Zombie in Love, Zombie in Love 2 + 1, East Dragon West Dragon, XO, OX: A Love Story, Bob Dylan's If Dogs Run Free and Hug Machine, in which he has written the words as well as created the pictures. Scott lives in New York City.