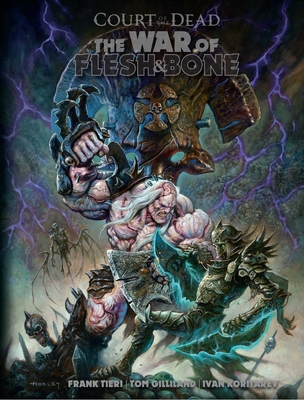 Court of the Dead
War of Flesh and Bone
Hardcover

* Individual store prices may vary.
Description
In midst of the Underworld's war against Heaven and Hell, the factions of Flesh and Bone collide for the ultimate showdown!

Three factions lead the Underworld in their secret rebellion against Heaven and Hell. Only through their unity will they defeat the Celestials, yet two of the faction leaders are constantly at odds. Gethsemoni, leader of the Faction of Flesh, and Xiall, leader of the Faction of Bone, pit their pride against each other in the training arena: Gethsemoni's gargantuan golem Odium must fight Xiall's stalwart soldier Mortighull.

Odium is a raging juggernaut of sheer muscle and might. Mortighull is a swift and canny skeletal warrior. The fight between the two spans the length and breadth of the Underworld, in a battle that extends beyond a mere training exercise. Odium and Mortighull are treated as pawns in the War of Flesh and Bone, but where their leadership has lost sight, they struggle to find new purpose in the face of an even larger threat.
Insight Comics, 9781683838623, 128pp.
Publication Date: June 1, 2021
About the Author
Frank Tieri has written comics for Marvel, DC, and Image, and is well known for his gritty portrayal of criminals and lowlifes. Some of his titles include New Excalibur, Iron Man, Wolverine, Weapon X, Underworld, X-Men: Dracula vs. Apocalypse, Civil War: War Crimes, and World War Hulk: Gamma Corps.
Residence: Brooklyn, NY

Tom Gilliland has led the creative direction of Sideshow Collectibles for the last 17 years. A head full of D&D and heavy metal imagery, coupled with a near-death experience, have formed the genesis of Tom's exploration of the darker aspects of heroism, along with an appreciation for the twisted and subversive. All these elements were paramount in his creation of the world of Court of the Dead.

Ivan Koritarev has been an artist in the gaming industry for over 12 years, working on titles such as Ghost Recon, Assassin's Creed, and Rayman.