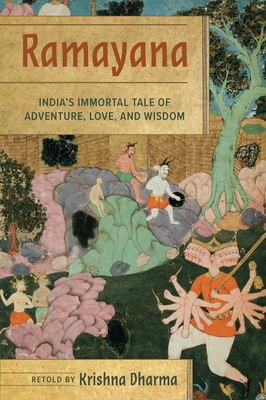 Ramayana (Hardcover)
India's Immortal Tale of Adventure, Love, and Wisdom
Mandala Publishing, 9781683839194, 504pp.
Publication Date: August 18, 2020
* Individual store prices may vary.
Description
Despite its popularity in Eastern cultures, and though Eastern and Western scholars alike recognize it as a literary masterpiece, the Ramayana is unknown to most in the West. This edition gives English-speaking readers the best opportunity yet to discover and enjoy this ancient classic.

The Ramayana, perhaps the world's oldest literature, is both a spellbinding adventure and a work of profound philosophy, offering answers to life's deepest questions. It tells of another time when gods and heroes walked among us, facing supernatural forces of evil and receiving guidance from powerful mystics and sages. Revered throughout the ages for its moral and spiritual wisdom, the beautiful and uplifting tale of romance and high adventure recounts the odyssey of Rama, a great king of ancient India. Rama, along with his virtuous, courageous wife Sita and faithful brother Lakshmana, is exiled to the forest for fourteen years. There, Sita is abducted by the powerful demon Ravana. With his brother and a fantastic army of supernatural creatures, Rama embarks on a perilous quest to find his beloved Sita.
About the Author
Krishna Dharma is a practicing Hindu priest and renowned translator of the world's most popular, award-winning editions of India's great epics, the Mahabarata and the Ramayana. Appearing regularly on the radio, Krishna Dharma is also a frequent contributor to the international press. For nearly a quarter of a century, he has offered lectures and seminars on the Vedas and their associated disciplines. In 1986 he established a center of Vedic study in Manchester, England. He currently lives with his wife and three children in Radlett, England.