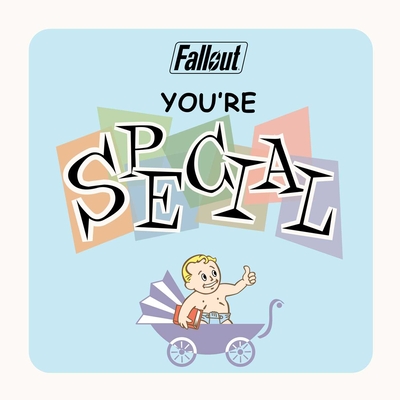 Fallout (Novelty book)
You're S.P.E.C.I.A.L.
Insight Editions, 9781683839965, 16pp.
Publication Date: September 1, 2020
* Individual store prices may vary.
Description
This in-world book by Vault-Tec highlights seven key attributes of vault dwellers in Bethesda Game Studio's hit Fallout® video game franchise.

Following total nuclear annihilation, the caring Vault-Tec staff have prepared an educational manual to help vault dwellers like you understand what makes you S.P.E.C.I.A.L. This replica of the board book every Lone Wanderer or Sole Survivor receives in Fallout® 3 and Fallout® 4 will help readers determine their best traits! After all, everyone is special, even you.

Learn about the seven defining attributes of Strength, Perception, Endurance, Charisma, Intelligence, Agility, and Luck. If you're lucky, one of these attributes may be what stands between you and a horribly painful fate. So study carefully and discover what makes you S.P.E.C.I.A.L.!
About the Author
Scott Campbell, sometimes known as Scott C., is the creator of the GREAT SHOWDOWNS online series and Double Fine Action Comics. He was art director and concept artist at Double Fine Productions on such games as Psychonauts, Brutal Legend, and Broken Age. His illustrated picture books include Zombie in Love, Zombie in Love 2 + 1, East Dragon West Dragon, XO, OX: A Love Story, Bob Dylan's If Dogs Run Free and Hug Machine, in which he has written the words as well as created the pictures. Scott lives in New York City.