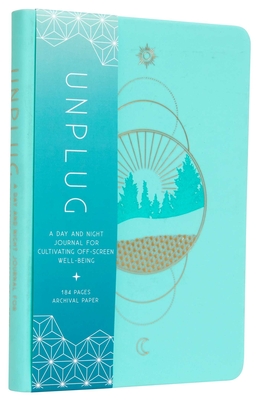 Unplug
A Day and Night Journal for Cultivating Off-Screen Well-Being (Inner World)
Paperback

* Individual store prices may vary.
Description
Plan and track your digital detox with this 90-day journal featuring morning and evening practices designed to help you unplug from your phone, step away from your screen, and live a more present life.

In this overworked, hyper-connected world, overdependence on technology can become a problem for even the most mindful of us, and sometimes it becomes necessary to take a step back and unplug. Unplug: A Day and Night Reflection Journal is a conscious tool to help you track and record your screen time and your non–screen time, giving you space to plan and reflect on habits and activities that don't include technology. Designed as a 90-day support system for your digital detox plan, each daily spread includes a morning practice for beginning your day with intention and an evening practice for reflecting on your challenges and achievements. Featuring delicate illustrations and a graceful, contemporary design, this 90-day journal is perfect for those trying to disconnect from their phones and reconnect with themselves.
Insights, 9781683839989, 184pp.
Publication Date: September 22, 2020
About the Author
Scott Campbell, sometimes known as Scott C., is the creator of the GREAT SHOWDOWNS online series and Double Fine Action Comics. He was art director and concept artist at Double Fine Productions on such games as Psychonauts, Brutal Legend, and Broken Age. His illustrated picture books include Zombie in Love, Zombie in Love 2 + 1, East Dragon West Dragon, XO, OX: A Love Story, Bob Dylan's If Dogs Run Free and Hug Machine, in which he has written the words as well as created the pictures. Scott lives in New York City.