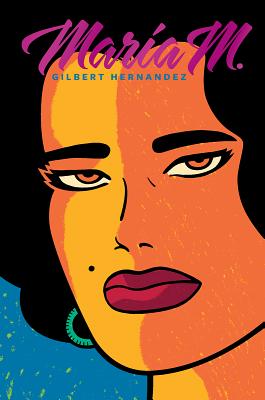 Maria M. (Love and Rockets)
Hardcover

* Individual store prices may vary.
Description
This brutal, original crime thriller graphic novel, from the co-creator of Love and Rockets, tells the story of femme fatale Maria M.
Maria M.'s is a sordid tale of sex, drugs, violence, and power. When she comes to America for a better life, she marries a drug kingpin, whose son learns Maria's darkest secret, leading to the most violent gangland bloodbath in organized crime history.
Maria M.
collects 2013's Book One (now out of print), and the never-before-published Book Two, presenting the complete graphic novel for the first time. Longtime readers of Hernandez's books will recognize a metatwist worthy of
Maria M.
's pulpy pages:
Maria M.
doubles as a "biopic" of the mother of Hernandez's most beloved character: Luba from
Love and Rockets
!
Praise For Maria M. (Love and Rockets)…
Hernandez is one of the great craftsmen of modern comics.
— New York Times Book Review

Hernandez has become the medium's David Lynch or Guy Maddin, rolling his personal obsessions and freewheeling abstractions into stories that present as pulp, then take some very weird turns.
— The A.V. Club

The combination of classic cartooning and cinematic storytelling, as well as graphic sex and violence, pushed to near surrealistic extremes, should satisfy most devotees and inspire the creation of even more.
— Library Journal

Maria M. is executed with style, strong and sensitive character development, practiced casual linework, and the kind of gonzo weirdness that defines the Hernandez ethos. This tale feels like the half-remembered dream of a midnight movie, making for a whimsy worth reading.

— Publishers Weekly

Every writer should be so lucky to have the imaginative chops that Hernandez shows in Maria M.

— Southwest Review

Hernandez's pulpy movies-on-paper [feature] deftly spun narratives; vivid character designs; and, most of all, powerfully bold graphics that feature economically arresting drawings and forceful composition.
— Booklist

Who was Maria M.? Fans of author Gilbert Hernandez will remember her well, but readers of all stripes will be intrigued by this tale of her twisty, turny life.
— San Francisco Book Review
Fantagraphics, 9781683960164, 232pp.
Publication Date: October 8, 2019
About the Author
Gilbert Hernandez is considered one of our greatest living cartoonists. He co-created the iconic series Love and Rockets, which has been ongoing since 1982, and authored numerous other comics and graphic novels, one of the greatest bodies of work the medium has ever seen. Raised in Oxnard, CA, Hernandez lives with his family in Las Vegas, NV.