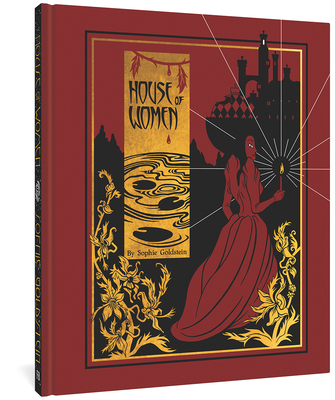 House Of Women (Hardcover)
Fantagraphics, 9781683960515, 200pp.
Publication Date: October 3, 2017
* Individual store prices may vary.
Description
In this graphic novel, science fiction meets psychosexual drama when four women try to bring "civilization" to the natives of a remote planet on the fringes of the known universe.
When Sarai and her fellow emissaries from the Empire disembark from their ship, they find themselves on an unknown planet teeming with life and mystery. The natives, whom they intend to "civilize," are not as malleable as expected and their only other human contact, a man with some unexpected genetic modifications, only causes further conflict within their ranks. Something dark is growing in Mopu. The only question is whether the danger that will undo the women's delicate camaraderie is outside the gates—or within.
House of Women is Goldstein's second solo graphic novel, following 2015's The Oven (AdHouse Books), which appeared on many year-end "Best of" lists, including Publishers Weekly and Slate. House of Women showcases Goldstein's remarkable self-assurance as a cartoonist and is certain to be one of the most acclaimed releases of 2017.
About the Author
Sophie Goldstein is an American cartoonist based in Pittsburgh. After graduating from the Center for Cartoon Studies in 2013, she went on to win a 2014 Ignatz Award for her minicomic House of Women Part I, and another in 2015 for her graphic novel The Oven. Her work has also appeared in Best American Comics 2013, The Pitchfork Review, and Maple Key Comics.
Praise For House Of Women…
Sophie Goldstein's House Of Women is a striking, suspenseful new graphic novel from Fantagraphics, showcasing the cartoonist's talent for pulling readers deep into foreign environments and crafting narratives that use those settings to enrich character relationships.


Another remarkable graphic novel from a creator whose approach to SF consistently defies expectations.

A creepy twist on the classic morality play that will leave readers shivering.

Goldstein (The Oven) offers readers much to reflect on in this sexually visceral tour de force.


A haunting take on gender, sexual identity, the nature of colonialism and more, House of Women is a book that should be taught to would-be auteurs looking to get into the business.


Goldstein weaves a tempestuous, fever drenched tale of repression and isolation.

Goldstein's beautifully executed artistic decisions, coupled with the story's unanswered mysteries and dark sexuality, create a complex and compelling graphic novel.