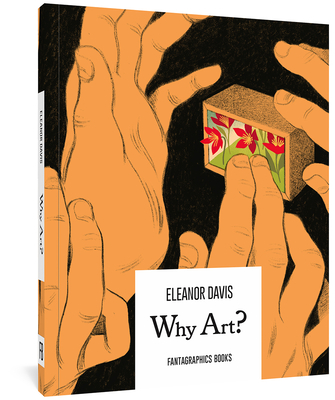 Why Art?
Paperback

* Individual store prices may vary.
Description
This is a treatise on what makes art art, told in graphic novel form.
What is "Art"? It's widely accepted that art serves an important function in society. But the concept falls under such an absurdly large umbrella and can manifest in so many different ways. Art can be self indulgent, goofy, serious, altruistic, evil, or expressive, or any number of other things. But how can it truly make lasting, positive change? In
Why Art?
, acclaimed graphic novelist Eleanor Davis (
How To Be Happy
) unpacks some of these concepts in ways both critical and positive, in an attempt to illuminate the highest possible potential an artwork might hope to achieve. A work of art unto itself, Davis leavens her exploration with a sense of humor and a thirst for challenging preconceptions of art worth of Magritte, instantly drawing the reader in as a willing accomplice in her quest.
Praise For Why Art?…
Eccentric and visually inventive, answering all the many questions it raises, Why Art? is about the power that comes from creating. The art that we mold with our own hands shows us how to be strong; it shows us how to live.

— The New York Times Book Review

Eleanor Davis is widely hailed as one of the most interesting young cartoonists working today. In Why Art?, Davis takes as her subject the cartoonist's unique process of creation. We're absorbed—and implicated—in the excitement of the creative process

— The New Yorker

Eisner Award-winner Davis seeks to answer eternal questions about the purpose of creativity in a metaphysical jaunt through the artistic process. She sketches this journey with wry humor and her characteristic empathy.
— Publishers Weekly

Davis's central message is that, when it comes to art, everybody needs to lighten up. … With her surprising, off-kilter appreciations of art — and thanks to the virtuosic draftsmanship with which they're executed — Why Art? adds up to a memorable work of, and about, art.

— LA Review of Books

Why Art? reflects the combination of empathy and imagination that has made Davis such a compelling cartoonist, and this graphic novel is an inspiring call to action for artists to create and audiences to engage.

— The A.V. Club

By the end, you'll be questioning your assumptions about the creative process and artistic consumption, and your awe for Davis will be all the stronger.
— Vulture

With a pinch of dry humour, Davis wrestles with the protean concept of art and tries to pin down why it exists and what function it can really serve in society.
— Broken Frontier
Fantagraphics, 9781683960829, 200pp.
Publication Date: March 13, 2018
About the Author
Raised in Tucson, Arizona, Eleanor Davis lives in Athens, Georgia with her husband, the cartoonist Drew Weing.

or
Not Currently Available for Direct Purchase