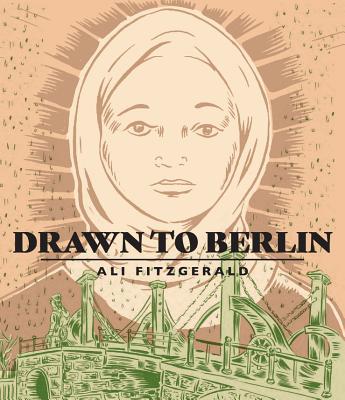 Drawn To Berlin (Hardcover)
Comic Workshops In Refugee Shelters And Other Stories From A New Europe
Fantagraphics, 9781683961321, 196pp.
Publication Date: October 23, 2018
* Individual store prices may vary.
Description
Fitzgerald's graphic memoir entwines political and personal displacement.
Ali Fitzgerald is an artist trying to find herself in a rapidly changing city facing an influx of asylum seekers. In Berlin, she teaches an art class to displaced people who have traveled from war-torn countries such as Syria and Afghanistan. Given Fitzgerald's encouragement, her students take pen in hand and express their painful memories of home and cautious optimism about their new life. Revealing the humanity behind the politics of immigration, Drawn to Berlin is about loss, community, and the art that binds people together.
About the Author
Ali Fitzgerald's weekly comic, "Bermuda Square," which appeared in New York Magazine's The Cut, is the first in its history. Before that she did a weekly strip for McSweeneys.net. She has exhibited extensively in the U.S. and Europe, been featured in the New York Times and Art in America, and her comics have appeared in the New Yorker, Huffington Post, and Bitch Magazine. Born in Oakland, CA, she graduated with an MFA from the University of Texas at Austin, and lives in Berlin.
Praise For Drawn To Berlin: Comic Workshops In Refugee Shelters And Other Stories From A New Europe…
One of the finest pieces of comics nonfiction I've read in years.

Fitzgerald celebrates the cathartic powers of art in her memoir recalling comic workshops she led in Berlin's refugee shelters. This ode to her students isn't just a portrayal of a city in flux or a people displaced—it is a portrait of the power of art.

Fitzgerald uses art to illuminate the human dimensions of [the refugee crisis], a situation often sketched in statistics.

Beautiful, sensitive, illuminating, and at times quite funny. ... every page is a gem.

It's quite an extraordinary book—a thoughtful and deeply empathetic examination of displacement and hope, focusing on the situation of immigrants in Berlin, past and present.

Warm and occasionally surreal black-and-white drawings profoundly and respectfully humanize people too often rendered as statistics while encouraging contemplation of a more humane future.

Fitzgerald's somber, black-inked drawings are a good match to her serious, introspective tone but still leave room for lightness in the form of white space, expressive and smiling faces, and the off-the-page connections made through art.

Given the current political climate, this feels like an important book.