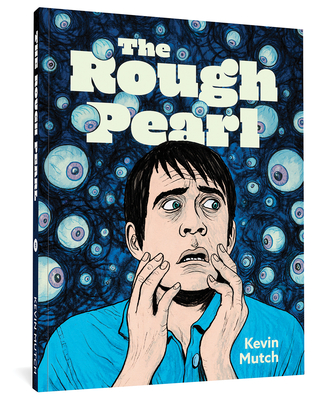 The Rough Pearl
Paperback

* Individual store prices may vary.
Description
Xeric Award-winning cartoonist Kevin Mutch skewers theory-spouting academics, sleazy art dealers, and obnoxious over-sharers.
In this graphic novel, Adam Kline is an aspiring artist with bleak prospects, stuck in a thankless adjunct teaching gig and married to an ambitious woman tired of supporting his starry-eyed pipe dreams. Just as things seem to be looking up for hapless Adam, he begins to black out at random and awaken in a pitch-dark void surrounded by billions of probing eyes. When these uncanny visions appear in his real life, he starts to worry that he's losing his mind…
Praise For The Rough Pearl…
Kevin Mutch mercilessly examines romantic failure, artistic pretentiousness, self-delusion, and fear of zombies. Self-lacerating and hilarious.
— Matt Madden, author of 99 Ways to Tell a Story: Exercises in Style

A sweaty mix of angst, bad decisions and hallucination, told with an involuntary, blurted-out kind of honesty.
— Joe Ollmann, author of The Abominable Mr. Seabrook

Mutch draws readers into the full bloom of mental breakdown in this viciously satirical graphic novel.
— Publishers Weekly

Devastatingly funny, fiercely uncanny, genuinely moving and seamlessly crafted.
— Artillery Magazine

Every choice Mutch makes in The Rough Pearl feels organic, and they all serve the story well.

— Comics Bookcase

In The Rough Pearl, there's no simple answer, and it would be a lesser work if there were.

— Comics Beat

A frenetic and electrically contradictory mapping of one man's existential breakdown.
— Cool Yeah Alright
Fantagraphics, 9781683962847, 180pp.
Publication Date: April 7, 2020
About the Author
Kevin Mutch is a cartoonist, digital artist, and painter from Winnipeg, Canada. He received an MFA in painting from the University of Victoria. His graphic novel Fantastic Life received a Xeric Award in 2010 and was excerpted in The Best American Comics 2011.