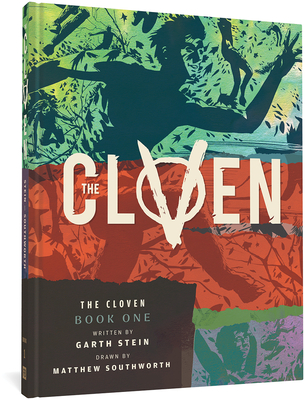 The Cloven
Book One
Hardcover

* Individual store prices may vary.
Description
The author of the #1 New York Times bestseller The Art of Racing in the Rain and the co-creator of Stumptown, now a hit series on ABC TV, team up for an action-packed coming of age story about a mutant from the Pacific Northwest. 
The Cloven Book One stars James Tucker, the most successful Genetically Modified Human Organism ever created. Conceived in a privately financed, top-secret laboratory on Washington state's Vashon Island, Tucker is a cross between a human and a goat — a Cloven. Known to his friends as "Tuck," all he wants is to live a normal life as a university student; everything is going fine, until he shows a girl his hooves… Moody and mysterious and atmospheric as a fever dream, The Cloven Book One follows Tuck's breakneck journey across the Pacific Northwest as he searches for his true home out there somewhere. Book One of a raucous, funny, fast-moving, and dynamic series of graphic novels by two bestselling and critically acclaimed storytellers. 
The Cloven Book One features a special full-color four page fold-out spread.
Praise For The Cloven: Book One…
Filled with action and intrigue and Southworth's cinematically-inspired artwork, one can feel the joy and excitement fairly leaping off the page.
— Starburst Magazine
The Cloven
is a daring graphic novel that casts light on a dark fictional world, full of stories yet to be told.
— Foreword Reviews
An oddball mash-up of science fiction, horror, action, and coming-of-age story, this unusual collaboration stands out from the crowd of similar superpowered mutants bucking the system.
— Publishers Weekly
A tense and disorienting (by intent) page-turner of a story, one that expertly spans lanes between more literary comics and the action-heavy monthly fair.
— Comics Bookcase
The evocative, unsettling world building is nicely matched by the shadowy artwork. The inky black silhouettes of the towering conifers and looming mountains of the Pacific Northwest, set against warm, saturated, watercolor-wash backgrounds of peachy sunsets, violet dusk, and bright-yellow artificial light are particularly striking.
— Booklist
From the first stark, cut-you-to-the-bone scene,
The Cloven
is riveting — a delightful modern-day twist on the Frankenstein story. The writing is stylistically dark; the art is vivid and strikingly beautiful. Stein and Southworth have created a masterful and unique world.
— Neal Bascomb, New York Times bestselling author of The Winter Fortress and Faster
The Cloven
makes me believe in comics, in art on the page, in the beauty of an image, in the intimacy of a story that moves from the mind to the hand and then to the imagination of the reader. Mostly it makes me believe — truly believe — in a hero that comics champion better than any other medium: the underdog.
— Chelsea Cain, New York Times bestselling author and Eisner Award nominee
Wildly, dizzyingly imaginative, and grimly allegorical. It fairly 'bleats' with wry humor, and the art is spectacular. I can't wait for the next two installments!
— Erik Larson, #1 New York Times bestselling author of The Devil in the White City
Homeless people in Seattle's notorious urban Jungle, secret labs, a gentle scientist who believes lonely genetic mutations need love, gorgeous illustrations, and a new species of gifted goat people in our midst as mythic as the Sasquatch — The Cloven has it all.
— Charles Johnson, National Book Award winning author of Middle Passage
Fantagraphics, 9781683963103, 128pp.
Publication Date: July 28, 2020
About the Author
GARTH STEIN is a New York Times-bestselling author, filmmaker and playwright based in Seattle. He is the winner of several literary awards, including two PNBA Awards. The author of several plays and four novels, his book, The Art of Racing in the Rain, has sold over six million copies worldwide, been produced as a stage play, children's book, and a film starring Kevin Costner, Amanda Seyfried, and Milo Ventimiglia.

MATTHEW SOUTHWORTH is a comic artist and writer based in Seattle. He is the co-creator (along with Greg Rucka) of the comic book series Stumptown, as well as an Executive Producer of ABC's Stumptown TV series, starring Cobie Smulders (Avengers, How I Met Your Mother).