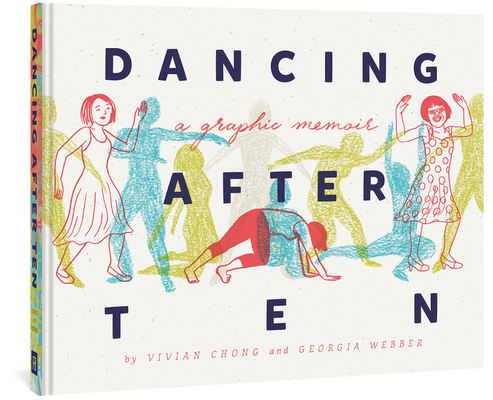 Dancing After TEN
Hardcover

* Individual store prices may vary.
Description
A graphic biography about a woman who lives a vital and fulfilling artistic life after a rare disease left her blind.
In late 2004, Vivian Chong's life was changed forever when a rare skin disease, TEN (Toxic Epidermal Necrolysis), left her with scar tissue that would eventually blind her. As she was losing her sight, she put down as many drawings on paper as she could to document the experience. In
Dancing After TEN
, Chong teams up with cartoonist Georgia Webber — whose graphic autobiography,
Dumb
, chronicled her own disability — to trace her journey out of the darkness and into the spotlight. Chong now expresses her art through singing, stand-up, drumming, running, and dancing. This graphic novel is an inspirational tale and a powerful work of graphic medicine.
Praise For Dancing After TEN…
Together Chong and Webber create a comics language that paradoxically communicates sightlessness through drawing. ... The result is a unique comics document of visceral embodiment.

A stunning graphic memoir. Chong brings her story to light in a way as beautiful as it is memorable.

The dance between their [Chong and Webber's] styles illustrates how artists with differing experiences and abilities can partner to make art that's elevated by the experiment.

A prime example of the graphic medicine genre, which illustrates medical conditions, often through lived experience, this work is engaging and informative but never feels teachy or preachy.

[Chong and Webber's] achievement underscores the message from advocates on behalf of those with disabilities — focus on what people can do, not what they can't.

In sharing the story of how she found joy, and a new self, after Toxic Epidermal Necrolysis syndrome took her vision, her hearing, and so many things she loved, Vivian Chong has given all of us who have struggled, and continue to struggle, with chronic illness a great gift.

A compelling, uncommon story. Readers interested in disability and/or graphic medicine will value this work.

A beautiful volume detailing Chong's life now.
Fantagraphics, 9781683963165, 128pp.
Publication Date: June 2, 2020
About the Author
Vivian Chong is a visual artist, dancer, singer-songwriter, graphic novelist, drummer, potter, motivational speaker, and the creator of a one-woman stand-up show. She lives in Toronto.

Georgia Webber is a comics artist, writer, and editor living in southern Ontario.