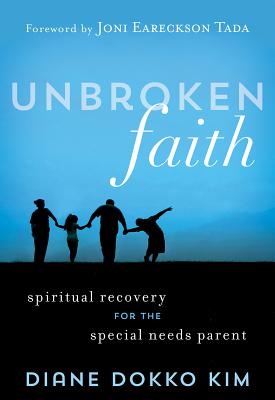 Unbroken Faith (Paperback)
Spiritual Recovery for the Special Needs Parent
Worthy Books, 9781683971344, 240pp.
Publication Date: April 3, 2018
Other Editions of This Title:
Compact Disc (5/31/2018)
* Individual store prices may vary.
Description
When a parent hears that their child has a disability, hearts and hopes are often broken. But faith doesn't have to be.

In Unbroken Faith, Dianne Dokko Kim comes alongside you as a fellow special needs parent to help you reconcile the premise of a good God with the devastating realities of raising a disabled child. Kim courageously articulates deep-seated, unspoken doubts and fears you may have but are afraid to voice: Will my child still have a full life? Can I do this? Where is God in all this? As you are adjusting to your new normal, Kim's biblical-based encouragement will help you understand that you are not alone, that God gets it, and that God's Word is entirely relevant to the raw and messy yet hallowed spaces of special needs parenting.
About the Author
A San Francisco Bay Area native, Diane Dokko Kim has been serving for over twenty-five years in bi-vocational church leadership, serving the disabled community. Diane's first son was diagnosed with autism and ADHD/ADD in 2004, at age two which triggered profound personal, professional and spiritual crises. In 2008, she began serving as a special needs ministry consultant and in 2012 launched an online ministry to reach out to special needs families. Diane and her husband, Eddie, live in the heart of Silicon Valley with their two young sons, Jeremy and Justin.
Praise For Unbroken Faith: Spiritual Recovery for the Special Needs Parent…
"Unbroken Faith is a MUST read for EVERY parent of a child with special needs. This is my new number one resource to give to every newly diagnosed family with special needs in our ministry and is also a great resource for one of our Parent Support Groups or Parent Bible Studies!"—Stephen "Doc" Hunsley, M.D., pastor of Grace Church, Overland Park, Kansas, SOAR Special Needs Ministry Director, and special needs parent
 
- Stephen "Doc" Hunsley, M.D.
"With raw authenticity and sensitivity, Diane helps me understand the unspoken cries of a special needs parent, and offers guidance on how to love, support—and most importantly—do life together."—Kathi Lipp, speaker and best-selling author of The Husband Project, Overwhelmed, and Clutter Free
- Kathi Lipp
"Unbroken Faith meets a profound need in the market and in churches. Scripturally sound, it is a fantastic tool to help facilitate validation, emotional healing, and most importantly, spiritual growth. I am thrilled and proud to recommend this resource to churches who want to help special needs parents grow in a relationship with Jesus Christ."—Amy Fenton Lee, author of Leading a Special Needs Ministry: A Practical Guide to Including Children and Loving Families and blogger at theinclusivechurch.com
 
- Amy Fenton Lee
"I do not understand why God's world contains such deep suffering, nor why shared suffering often brings the deepest community and such inspiring goodness. Unbroken Faith names both the darkness and light in ways that will comfort, challenge, and re-awaken the ache of hope."—John Ortberg, senior pastor of Menlo Church, and author of I'd Like You More If You Were More Like Me
 
- John Ortberg
"Unbroken Faith is wisdom not just for the parent of the special needs child, but for all of us who have faced brokenness in ourselves or our loved ones. I give Unbroken Faith my highest endorsement. I thank Jesus for the refining and transformational work He is doing in Diane Dokko Kim, and for those who brave to pick up this book in search of deeper still."—Cynthia Zierhut, Ph.D. Clinical Psychologist, Former Research Psychologist, UC Davis MIND Institute and Champions Director at Capital Christian Center, owner of Early Days Autism Center
- Cynthia Zierhut
"Unbroken Faith is medicine for a hurting heart. In this extraordinary book, Diane reassures you of God's goodness, reminding you that it's okay to grieve… weep… doubt… and to ask the hardest of questions…. An excellent resource for support groups or Bible studies, it is a valuable tool for any church leader, friend or family member who wants to better nurture the hearts of special needs parents."—From the foreword by Joni Eareckson Tada, author, speaker, disability advocate, CEO of Joni and Friends
- Joni Eareckson Tada