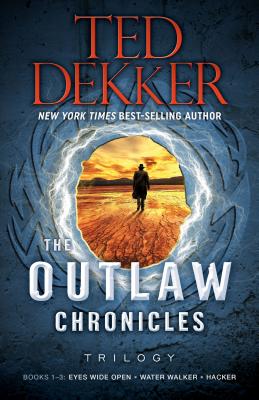 The Outlaw Chronicles Trilogy (Hardcover)
Books 1-3
Worthy Books, 9781683971382, 880pp.
Publication Date: October 17, 2017
* Individual store prices may vary.
Description
ONE THING CONNECTS EYES WIDE OPEN, WATER WALKER, AND HACKER—THEY CALL HIM OUTLAW.

It all begins with Christy Snow in Eyes Wide Open: seventeen, buried alive in a coffin, and about to die. Is what she's experiencing real? Or is she suffering a delusional breakdown?

In Water Walker, Alice Ringwald is a thirteen-year-old orphan suffering from amnesia. She is still adjusting to her new life when suddenly she is kidnapped by a strange man.

Finally, in Hacker, skilled computer expert Nyah Parks is using her technical knowledge to get money for her mom's life-saving medical treatment. When Nyah cracks the wrong firewall, it's not just her mother's life that is in danger. Nyah is forced into one last hack that will either save her or kill her.

Humming with intensity, The Outlaw Chronicles Trilogy is a raw adrenaline rush from the first page to the last from master of suspense Ted Dekker. .
About the Author
Ted Dekker is a New York Times bestselling author of over thirty novels. Heralded as a "master of suspense" by Library Journal, Dekker has sold millions worldwide, establishing himself as one of the most widely recognized author brands. Dekker was born to missionaries and grew up among cannibals of Indonesia, and his peculiar upbringing gives him a unique perspective outside the cultural bubble, allowing him the freedom to share provocative insights in his fiction. He resides in Austin, TX, with his wife and children. You can find him at Teddekker.com and https://protect-us.mimecast.com/s/pqfYCZ6Gm6t75GVLUk0ErU?domain=facebook.com.
or
Not Currently Available for Direct Purchase