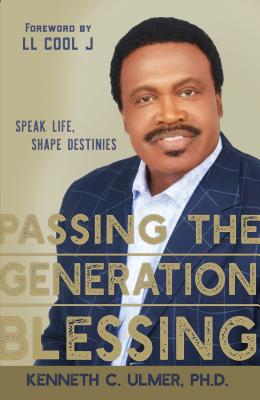 Passing the Generation Blessing
Speak Life, Shape Destinies
Paperback

* Individual store prices may vary.
Description
God has given you the responsibility to pass your faith to the next generation. When you speak to your children about God, pray for them, and encourage them on their spiritual journey, you prepare them to live a life of enduring faith and blessings.

"In our walk with God, the passing of the blessings is not a suggestion," writes author Bishop Kenneth Ulmer. "It's a command, a mandate to those who have been blessed. And the blessing is not only to be passed to your children, but also to your children's children."

It is more important than ever to train up new followers of Christ. Though sin has become an accepted part of our culture, it is possible to break the cycle of sin passed down from previous generations and replace it with blessings. "If you want to have a positive impact," says Bishop Ulmer, "tell the story." Passing the Generation Blessing offers practical and powerful ways to speak blessings over your family so all can hear.
Worthy Books, 9781683972488, 256pp.
Publication Date: October 30, 2018
About the Author
Bishop Kenneth Ulmer has served as senior pastor of Faithful Central Bible Church in Los Angeles for the past thirty years. During that time his ministry has grown from 300 to several thousand. He is the former president of King's University and currently serves as the Presiding Bishop over Macedonia International Bible Fellowship, based in Johannesburg, South Africa. Bishop Ulmer is the author of Making Your Money Count, Passionate God, and Knowing God's Voice. He lives in Los Angeles with his wife, Togetta, and their three children.