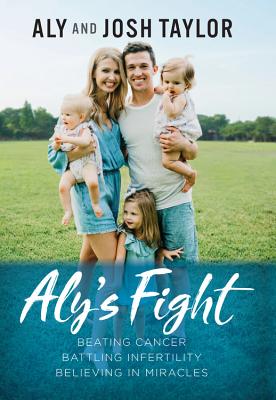 Aly's Fight (Hardcover)
Beating Cancer, Battling Infertility, and Believing in Miracles
Worthy Books, 9781683972990, 224pp.
Publication Date: May 14, 2019
Other Editions of This Title:
Paperback (5/12/2020)
* Individual store prices may vary.
Description
TLC reality TV stars Aly and Josh Taylor share their story of breast cancer, infertility, and dashed dreams and inspire readers to cling to hope, even when it seems impossible.
October 17, 2011 changed Aly and Josh Taylor's lives forever. At just 24 years old, Aly was diagnosed with breast cancer. Everything they had known, hoped for, and dreamed of came to a screeching halt with the news of her diagnoses.
Aly's cancer journey is only the beginning of their incredible story. With grit, fierce love, and unyielding faith, Aly and Josh fight for her life and dream of building a family. They battle infertility, face heart-wrenching struggles while trying to adopt, and experience God in miraculous ways. Aly and Josh inspire readers to cling to life, faith, and love, especially when all hope seems lost.
About the Author
Aly and Josh Taylor have seen God continue to do what man calls "impossible." Aly Taylor is a grateful wife of one amazing man and a mom of three toddlers. Aly is a full-time homemaker, and it is her greatest joy. During naptime, Aly is an adjunct professor at Liberty University, adoption consultant and homestudy provider, speaker, and family therapist. Aly received her PhD in Marriage and Family Therapy during her breast cancer battle.
Josh Taylor is a man who is still in awe that he gets to spend time with his four miracle girls every day. Waking up with Aly and going to get their three little girls out of their beds each morning is the joy of his life. Josh is a serial entrepreneur, and currently works as a contractor for his business, J. TaylorMade Construction. He also does real estate, including buying, selling, and renting properties.
Josh and Aly have been married for thirteen years and live in West Monroe, Louisiana, raising their three girls, Genevieve, Vera, and Lydia. Aly and Josh now travel the country sharing their story of healing, hope, and miracles. They strive to live each day abundantly and center their marriage and home around the life-changing power of Jesus Christ.

Praise For Aly's Fight: Beating Cancer, Battling Infertility, and Believing in Miracles…
"Hope is rare in today's dark world. But Josh and Aly Taylor inspire all of us to hold onto hope and fight with all we have to get to the light without fear."

—-SADIE ROBERTSON, New York Times best-selling author of Live Original and Live Fearless, founder of LiveOriginal.com

"In Aly's Fight, Josh and Aly reveal how life can be full of interruptions and pain, yet with trust and insistent faith, God crafts the miraculous."—-MARCUS AND JONI LAMB, Founders of Daystar Television Network

"We love this beautiful family. With six miracle babies of our own, we are truly inspired by Aly and Josh's story of hope and trusting God through the hardest of times."—-DANIELLE AND ADAM BUSBY, Reality stars from TLC's Outdaughtered

"This is a life-changing book. Josh and Aly share their highest highs and lowest lows, but never once are they without hope. You will be inspired by this uplifting and important book."

—-KORIE ROBERTSON, Star of A&E's Duck Dynasty and New York Times best-selling author