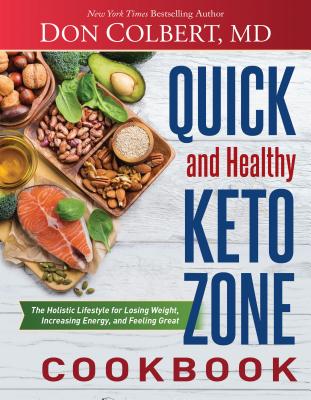 Quick and Healthy Keto Zone Cookbook (Hardcover)
The Holistic Lifestyle for Losing Weight, Increasing Energy, and Feeling Great
Worthy Books, 9781683973010, 224pp.
Publication Date: January 8, 2019
* Individual store prices may vary.
Description
Finding quick and healthy recipes that fit your busy lifestyle is challenging. Dr. Colbert tackled this challenge and created his Quick and Healthy Keto Zone Cookbook that follows his proven Keto Zone diet. Not only can you quickly cook wonderful meals, but the meals you eat will help you lose weight, increase your eneregy, and help you feel great! Dr. Colbert shares his best tips for getting into the Keto Zone, provides a shopping list, and a simple meal plan to follow to help you stay in the Keto Zone no matter your schedule. The best bonus is you'll enjoy what you're eating too!
About the Author
Dr. Don Colbert has been board-certified in Family Practice, Anti-aging and Integrative medicine for over 25 years. He is an Amazon and New York Times best-selling author of books such as The Seven Pillars of Health, What Would Jesus Eat, What You Don't Know May be Killing You, and many more with over 10 million books sold. He is the Medical Director of the Divine Health Wellness Center where he has treated over 50,000 patients. He is also an internationally known expert and prolific speaker on Integrative Medicine. He and his wife, Mary, reside in Orlando, Florida and Dallas, Texas.