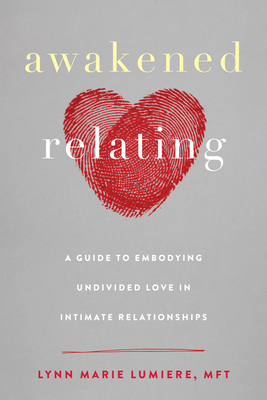 Awakened Relating
A Guide to Embodying Undivided Love in Intimate Relationships
Paperback

* Individual store prices may vary.
Description
"Full of wisdom as well as practical guidance about how to bring spiritual illumination into the very heart of our humanness."
--John Welwood, author of Perfect Love, Imperfect Relationships and Journey of the Heart
Our natural state is to love and be loved. From deep within, we're compelled to seek connection. Yet relationships remain a struggle--even for the most spiritually enlightened among us. Traumatic experiences, insecure attachment, and especially the false but commonly held belief that we are separate, both from each other and from the love we seek, can cause endless problems in relationships. As long as our connections are built on this untruth, lasting love and harmony in relationship will elude us. Awakened Relating can help.
Written by a licensed therapist and pioneer in bringing the most direct teachings of non-duality into the practice of psychotherapy, this book offers practical guidance for improving relationships through "awakened relating"--a more enlightened experience of falling in love, communication, conflict resolution, and sexuality. With examples, guidelines, and experiential inquiries for realizing your true nature, this book will dispel common myths and mistaken beliefs about intimacy and help you cultivate a loving relationship with yourself and others.
Including inspirational stories of people who practice awakened relating in their own lives, this book will show you how to identify, transform, and resolve the deep psychological issues that prevent you from having the harmonious, loving relationships you seek. Now is the time to realize the deep and ever-present love that exists within and all around you.
Non-Duality, 9781684031016, 216pp.
Publication Date: July 1, 2018
About the Author
Lynn Marie Lumiere, MFT, is a seasoned psychotherapist with a focus on transforming issues at their source through dissolving the belief in separation that creates and sustains them. She is dedicated to awakening consciousness and meeting life's challenges as doorways to greater freedom. Her work is sourced in over forty years of dedicated spiritual and psychological exploration, as well as almost thirty years of marriage and practicing psychotherapy. This experience led her to the understanding that no matter what the problem, transformation and freedom from suffering is possible when we tap into the infinite and ever-present source of Love. She has been especially interested in applying this understanding to healing relationships and trauma. Lynn Marie has been involved in the exploration of non-dual wisdom and psychotherapy since it began in 1998. She is a repeat presenter at the annual Nondual Wisdom and Psychology Conference and the Science and Nonduality (SAND) Conference, and is a contributing author to The Sacred Mirror. Lynn Marie is also coauthor (with John Lumiere-Wins) of The Awakening West. Her primary spiritual teacher is Adyashanti, and she has studied with many other teachers from non-dual, Buddhist, and Hindu traditions. She lives in Grass Valley, CA. For information about Lynn Marie and events she offers, please visit www.lynnmarielumiere.com. It is her intention to offer support for learning and experiencing awakened relating.