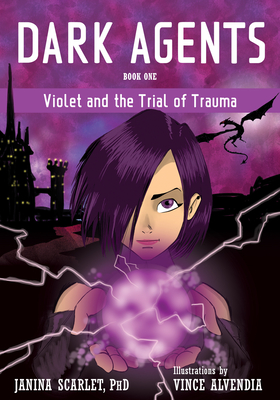 Dark Agents, Book One
Violet and the Trial of Trauma
Paperback

* Individual store prices may vary.
Description
This spellbinding graphic novel follows the adventures of Violet--a young witch whose parents were murdered when she was a child. As she wages war against necromancers and demons, Violet learns to overcome her internal monsters as well.
In this groundbreaking comic book for teens and young adults, we meet Violet--a witch whose parents were murdered by an evil necromancer when she was only six years old. Running from country to country, as well as from herself, Violet never gets a chance to fully process her traumatic experience.
When she turns 19, Violet begins training at the Underworld Intelligence Agency (UIA) in hopes of becoming a Dark Agent--someone tasked with keeping the balance between the world of the living and the world of the undead. During her training, Violet hopes to finally overcome her fear of death and take control of her emotions, but instead she finds that mindfulness, vulnerability, and acceptance are the skills most necessary to help her succeed.
Blended seamlessly throughout the story are elements of a powerful and evidence-based treatment called acceptance and commitment therapy (ACT). Whether or not you've experienced a traumatic event like Violet, you'll find valuable skills you can apply to your own life to help you conquer your demons and hone your unique superpowers.
Note for therapists: Dark Agents presents the core skills of ACT in a fun, narrative format to appeal to teen readers. In this comic, teens will learn all about mindfulness, defusion, self-compassion, and values-based living. The book doesn't feel like a therapist recommendation--which is exactly what makes it perfect for your teen clients
Instant Help Publications, 9781684031740, 152pp.
Publication Date: March 1, 2020
About the Author
Janina Scarlet, PhD, is a licensed clinical psychologist, an award-winning author, and a full-time geek. A Ukrainian-born refugee, she survived Chernobyl radiation and persecution. Scarlet immigrated to the United States at the age of twelve with her family, and later, inspired by the X-Men, developed Superhero Therapy to help patients with anxiety, depression, and post-traumatic stress disorder (PTSD). She has been awarded the United Nations Association Eleanor Roosevelt Human Rights Award for her book, Superhero Therapy. Her other books include Harry Potter Therapy, Therapy Quest, and Super-Women. Illustrator Vince Alvendia is a freelance artist/illustrator, native to San Diego, CA. His work has been featured in the official souvenir books for San Diego Comic-Con International; and also created one of three exclusive library card designs for the San Diego Public Library, in conjunction with the 2017 Comic-Con. Vince has contributed art to indie comic anthologies; and also continues to contribute to group art shows at various galleries, centered around pop culture and comic books. He loves carne asada burritos and Chinese food, and enjoys annoying his wife and fellow geek, Sabrina, and their spawn of "geeklings."
or
Not Currently Available for Direct Purchase