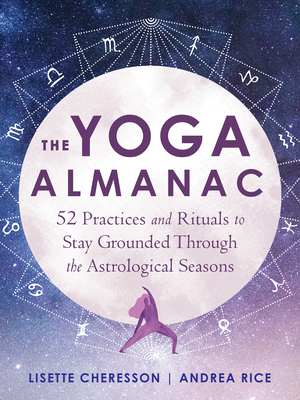 The Yoga Almanac
52 Practices and Rituals to Stay Grounded Through the Astrological Seasons
Paperback

* Individual store prices may vary.
Description
52 weeks of yoga practice, wisdom, and ritual to help you slow down, restore balance, and nourish mind, body, and spirit.
Sequenced by the astrological calendar, The Yoga Almanac is a practical guide to help you reintegrate with recurring cosmic rhythms, and invite the sacred into your life through learning, movement, breath, and ritual. Featuring 52 seasonally-themed chapters, the Almanac is a comprehensive jumping off point to deepen your relationship to yoga--and to yourself.
Each chapter includes a seasonal theme with an overview of yogic theory, as well as an illustrated asana to begin the physical exploration of your practice. You'll also find weekly rituals to integrate these teachings into your daily life, and a short dharma talk as reference and nod to tradition. Finally, this unique, holistic handbook will help you develop a transformational practice that flows with the cycles of the astrological year--beginning with spring and culminating in winter.
Whether you're looking for weekly inspiration, a crash course in yogic theory, or a blueprint for developing your own yoga routine, The Yoga Almanac provides a foundation for reconnecting with the deepest parts of yourself and discovering your authentic place in the world.
Reveal Press, 9781684034352, 296pp.
Publication Date: March 1, 2020
About the Author
Lisette Cheresson is a writer, editorial director, and content consultant specializing in wellness, sustainability, and women's empowerment. She has made short films with leaders such as Eddie Stern, Eoin Finn, and Elena Brower; and is an award-winning journalist whose work has appeared in The Wanderlust Journal, Quilt, Matador, the New York Times reference books Off Track Planet, and others. She completed her 200-hour yoga training in New York, NY; and her Reiki attunement in India. She also studied with Leslie Kaminoff of The Breathing Project, and attended a three-day intensive discourse with the Dalai Lama. She has offered workshops with Wanderlust Festivals and Manifest Station, and completed her end-of-life doula training in 2019. She lives with her husband and animals in the Hudson Valley in New York. Andrea Rice is a writer and editor covering health and wellness. Her work has appeared in Yoga Journal, The Wanderlust Journal, mindbodygreen, Astrostyle, SONIMA, and New York Yoga+Life. She has also worked as a journalist for the New York Times and INDY Week. As a yoga teacher with a decade of experience, Andrea completed her 200-hour training in New York, NY; and furthered her training with Elena Brower and Alexandria Crow. She has also studied astrology extensively with The AstroTwins, Ophira and Tali Edut. Andrea has offered yoga, meditation, journaling, and creativity workshops in Brooklyn and Manhattan in New York, and has been a presenter at Wanderlust Festivals in Vermont. She lives in Raleigh, NC, with her husband and their cat.