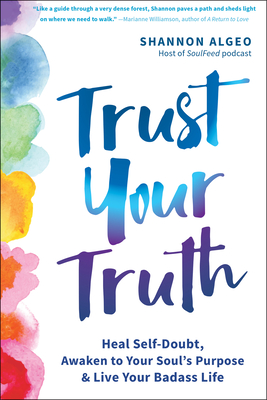 Trust Your Truth
Heal Self-Doubt, Awaken to Your Soul's Purpose, and Live Your Badass Life
Paperback

* Individual store prices may vary.
Other Editions of This Title:
Digital Audiobook (3/15/2021)
MP3 CD (3/16/2021)
Compact Disc (3/16/2021)
Description
It's time to wake up and become the person you are here to be. In Trust Your Truth, Shannon Algeo invites you on a profound journey to move beyond self-doubt and live the badass life you are meant to live.
Self-doubt intensifies whenever we give our power away to people and things outside of us. But your self-worth is always sourced from within you. Organized by the seven chakras--the energetic centers of the body--Trust Your Truth invites you to discover your truth on every level of YOU: to awaken to your true calling, accept yourself wholeheartedly, honor your emotions, trust your intuition, and measure success based on how true you can be to yourself--rather than the expectations of others.
When you learn to trust your truth, you open yourself up to becoming the most empowered, present, and alive version of yourself. The powerful practices throughout this book are interwoven with raw, personal stories from Algeo's own healing journey--showing you how aligning with your purpose and being the True You benefits everyone around you and your collective community as a whole. As Algeo says, "One of the bravest journeys is the journey inward."
Get ready for a journey from head to heart and beyond. This book will be your step forward onto a new path of deeper courage, rich insights, and profound wisdom as you uncover the power of who you truly are.
Reveal Press, 9781684036998, 192pp.
Publication Date: March 1, 2021
About the Author
Named one of the "35 Under 35 in Wellness to Watch" by Wanderlust, Shannon Algeo (he/him) is a celebrated speaker, writer, life coach, and Yoga Nidra and meditation teacher. His popular podcast, SoulFeed, features interviews with iconic cultural and spiritual leaders like Deepak Chopra, Caroline Myss, Marianne Williamson, Danielle LaPorte, and many more. In his coaching practice, Algeo works with clients to heal old patterns of trauma so they can show up in the world with power, presence, and purpose. Algeo is known around the world for his gift of processing his own life experience into words that can be heard or read in service of greater learning, deeper resonance, and profound healing. Algeo was rated as one of the "nicest instructors in New York City" by RateYourBurn for his work as a yoga and meditation teacher, and he leads meditation programs for companies like the global nonprofit, (RED), founded by Bono and The Museum of Contemporary Art. In addition to giving presentations for Lululemon and the Wanderlust Festival, Algeo was a featured guest speaker at the United Nations "Yoga and the UN Culture of Peace" event. He is currently pursuing an MA in counseling psychology from Pacifica Graduate Institute.