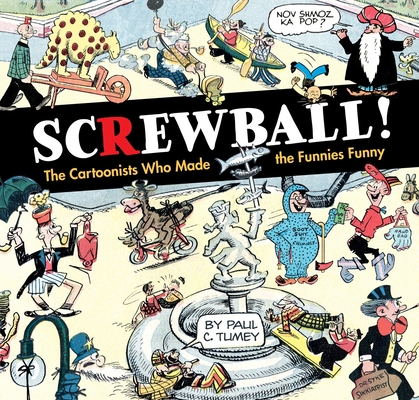 SCREWBALL! The Cartoonists Who Made the Funnies Funny
Hardcover

* Individual store prices may vary.
Description
The story of screwball comics, with new research and rare art from some of the most hilarious cartoonists of all time.

Before "screwball" became a movie genre, it was a staple of other forms of American culture, including newspaper comic strips. Emerging from the pressures of a rapidly accelerating technological and information-drenched society, screwball comics offered a healthy dose of laughter and perspective. The disruptive, manic, and surreal verbal-visual comedy of these "funnies" fostered an absurdist sensibility embraced by The Marx Brothers (who took their names from a popular comic strip), W. C. Fields, Tex Avery, Spike Jones, Ernie Kovacs, and Mad magazine. Comics scholar Paul C. Tumey traces the development of screwball as a genre in magazine cartoons and newspaper comics, presenting the work of around fifteen cartoonists, with an art-stuffed chapter on each.

The book offers a wealth of previously un-reprinted comics unleashing fresh views of some of America's greatest and most-loved cartoonists, including George Herriman (Krazy Kat), E.C. Segar (creator of Popeye), Rube Goldberg (The Inventions of Professor Lucifer G. Butts, A.K.), Bill Holman (Smokey Stover), and Frederick Opper (Happy Hooligan). In addition, readers will be delighted to discover previously "lost" screwball masters, such as Gene Ahern (The Squirrel Cage), Gus Mager (Sherlocko the Monk), Boody Rogers (Sparky Watts), Milt Gross (Count Screwloose), George Swanson ($alesman $am) and others.

Both humorous and educational, this book is aimed at a general audience of all ages and at university comics studies programs.
Praise For SCREWBALL! The Cartoonists Who Made the Funnies Funny…
"Combining more than six hundred rare cartoons, comics and photographs with deeply researched and insightful text, comics historian Paul C. Tumey builds the case for the genre of Screwballism, convincingly illustrating why names like Frederick Burr Opper or Boody Rogers should be at least as familiar to Americans as Charlie Chaplin or Mel Brooks. Better yet, he curates examples of the cartoonists' work--much of which is previously unpublished since first appearing in newspapers--that make the case for themselves." —Michael Tisserand, author of KRAZY: George Herriman, a Life in Black and White.

"Comics have always been a disposable art form. They were thrown out with the newspaper, and children read them and re-read them until they fell apart. With Screwball!, Tumey is snatching these treasures from the scrap heap and presenting them to audiences a century or so later…. He's excavating more than just a nostalgia trip: he's pointing to a lost form of communication — one that can inform a whole new generation of artists." —The Seattle Review of Books

"A masterpiece…I teach a university class about graphic narration and know a lot about the history of comic strips, yet I cannot tell you how much I have learned from Tumey's book. The book is painstakingly and thoroughly researched, yet Tumey does not allow the depth of the research to overshadow the clarity of his narratives. He tells the story of each cartoonist, and he tells those stories beautifully. Anyone who is a cartoon and/or comic strip collector, researcher, or historian needs to own this book."

"Indispensable to anyone wanting to learn about American humor in the 20th century." —The Comics Journal

"Mr. Tumey's encyclopedic knowledge, artistic eye and deft writing hand brings the history of screwball comics magically to life. The proponents may have been eccentric by nature, but they helped enrich the newspaper funnies in a way that few others would have truly been able to do." –The Washington Times
Library of American Comics, 9781684051878, 304pp.
Publication Date: October 8, 2019
About the Author
Paul C. Tumey is a comic scholar, writer, and designer. He co-edited and wrote for The Art of Rube Goldberg A) Inventive B) Cartoon C) Genius (Abrams, 2014). He was a contributing editor and essayist for the Library of American Comics' King of the Comics: 100 Years of King Features, and wrote the introduction to LOAC's The Bungle Family 1930. Most recently, Tumey co-edited and introduced Foolish Questions and Other Odd Observations by Rube Goldberg (Sunday Press, 2017). He writes a column for The Comics Journal and lives in Seattle, Washington.