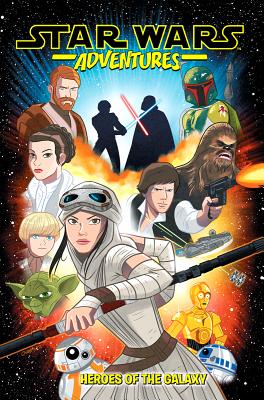 Star Wars Adventures Vol. 1 (Paperback)
Heroes of the Galaxy
IDW Publishing, 9781684052059, 80pp.
Publication Date: October 31, 2017
Other Editions of This Title:
Paperback (2/27/2018)
* Individual store prices may vary.
Description
Brand-new Star Wars comic book stories for readers of all-ages! These new  adventures make this sprawling universe more accessible than ever.

Travel to a galaxy far, far away in the first volume of an all-new series as a rotating cast of characters (and creators!) journey through Star Wars history! Stories range from before the events of Episode I: The Phantom Menace all the way up to Episode IV: The Rise of Skywalker. Characters major and minor, classic and new, expand the world of Star Wars into new territory, telling larger-than-life stories that encapsulate the breadth of the galactic struggle between good and evil for a new generation of fans.

When the junk boss Unkar Plutt is kidnapped, Rey realizes her future may be better with the devil she knows. Plus more stories with Obi-Wan Kenobi, C-3PO, R2-D2, and the rebels vs. the Empire expand the world of Star Wars into new territory.

For fans of all ages and with with a mix of old and new characters, Star Wars Adventures will appeal to Jedi everywhere, Master and Padawan alike!
About the Author
Landry Q. Walker has been making stories happen for over twenty years. His work includes some Star Wars novellas, a New York Times bestselling collaboration with Dean Koontz called House of Odd, the beloved comic book series Supergirl: Cosmic Adventures in the 8th Grade for DC Comics, the novella Frozen: The Phantoms of Arendelle for Disney, and the celebrated superhero epic Danger Club. With his frequent collaborator Eric Jones he also created the comic book Little Gloomy, which now airs internationally as the animated TV show Scary Larry.
Praise For Star Wars Adventures Vol. 1: Heroes of the Galaxy…
"Who the heck wouldn't want to read this book? Nerf herders, presumably." —DoomRocket.com, on Star Wars Adventures #1

"Perfect reading for your little troopers or Padawans. The stories are quick, full of action, and look terrific." –SciFiPulse

"Sure it's clich to say, but the force is strong with this book." –Comic Crusaders