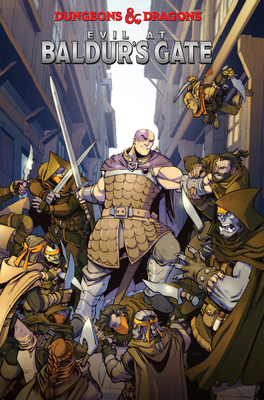 Dungeons & Dragons
Evil At Baldur's Gate (DUNGEONS & DRAGONS Baldur's Gate #4)
Paperback

* Individual store prices may vary.
Description
Follow the adventures of Minsc, Krydle, Shandie, Delina, Nerys, and Boo as the Baldur's Gate heroes return to the city at last!

But their time adventuring in Ravenloft and the frozen northern reaches of the realm has changed them. Still, each of them must face great trials ahead before they'll be ready to embrace theri destiny. Written by Jim Zub with artists Dean Kotz, Steven Cummings, Harvey Tolibao, Ramon Bachs, and Francesco Mortarino.

Evil at Baldur's Gate is just the latest adventure involving this intrepid crew. They can also be found in the stories Legends of Baldur's Gate, Shadows of the Vampire, and Frost Giant's Fury!
Praise For Dungeons & Dragons: Evil At Baldur's Gate (DUNGEONS & DRAGONS Baldur's Gate #4)…
"Surprisingly kid-friendly… I heartily recommend." —Fanbase Press

"Jim Zub just excels at making books fun, and this story is no exception… A fun read for anyone who'd just like a light, enjoyable comic book." —We Talk Podcasts

"If you need a comic to scratch your fantasy itch, you'll enjoy Evil at Baldur's Gate. It's a safe and fun comic, a fantasy story created by a Dungeon Master for players just looking for some simple escapism." —ComicBook.com
IDW Publishing, 9781684053353, 120pp.
Publication Date: December 18, 2018
About the Author
Jim Zub is a writer, artist and art instructor based in Toronto, Canada. Over the past fifteen years he's worked for a diverse array of publishing, movie and video game clients including Marvel, DC Comics, Capcom, Hasbro, Cartoon Network, and Bandai-Namco. He juggles his time between being a freelance comic writer and Program Coordinator for Seneca College's award-winning Animation program. His current comic projects include Dungeons & Dragons, a new series celebrating 40 years of the classic tabletop RPG, Thunderbolts, the return of Marvel's villainous superhero team, and Wayward, a modern supernatural story about teens fighting Japanese mythological monsters.