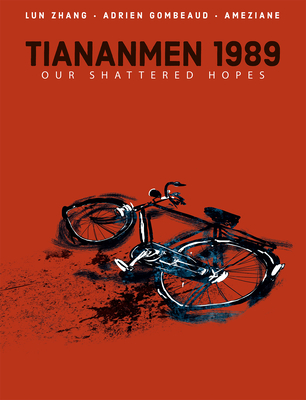 Tiananmen 1989
Our Shattered Hopes
Hardcover

* Individual store prices may vary.
Description
Follow the story of China's infamous June Fourth Incident -- otherwise known as the Tiananmen Square Massacre -- from the first-hand account of a young sociology teacher who witnessed it all.

Over 30 years ago, on April 15th 1989, the occupation of Tiananmen Square began. As tens of thousands of students and concerned Chinese citizens took to the streets demanding political reforms, the fate of China's communist system was unknown. When reports of soldiers marching into Beijing to suppress the protests reverberated across Western airwaves, the world didn't know what to expect.

Lun Zhang was just a young sociology teacher then, in charge of management and safety service for the protests. Now, in this powerful graphic novel, Zhang pairs with French journalist and Asia specialist Adrien Gombeaud, and artist Ameziane, to share his unvarnished memory of this crucial moment in world history for the first time.

Providing comprehensive coverage of the 1989 protests that ended in bloodshed and drew global scrutiny, Zhang includes context for these explosive events, sympathetically depicting a world of discontented, idealistic, activist Chinese youth rarely portrayed in Western media. Many voices and viewpoints are on display, from Western journalists to Chinese administrators.

Describing how the hope of a generation was shattered when authorities opened fire on protestors and bystanders, Tiananmen 1989 shows the way in which contemporary China shaped itself.
Praise For Tiananmen 1989: Our Shattered Hopes…
"While 'Tiananmen' calls up the famous image of a single citizen facing down a tank, Zhang's information-dense graphic memoir, cowritten with journalist Gombeaud, details the larger student-led movement for political reform behind the protest that culminated in the Chinese military killing hundreds, perhaps thousands, at Tiananmen Square."  —Publishers Weekly

"Artist Ameziane's noir-esque documentary style provides the ideal, dynamic complement to Zhang's memories. Together, the auspicious quartet bears witness to more-crucial-than-ever protest history." —Booklist

"A gripping account of an event that the China's communist party has all but wiped from the history books... it is imperative to have cultural reference of oppression so that future generations never forget." —The Beat

"The subject matter would probably appeal to high school students, as the power of youth movements has a timeless appeal. It's also a good read for adults with an interest in history and politics, as it is a valuable eyewitness narrative of one of the most significant events of our time." —ICv2

"It teaches anybody, if they needed telling, how graphic novels can at times be the perfect format for portraying such deathly serious subjects with emotional sympathy yet factual detail. And it certainly shows what happened thirty years ago, in that famous concrete public area. The author's hopes of it being a suitable memorial have been superbly met." —The Bookbag
IDW Publishing, 9781684056996, 112pp.
Publication Date: June 16, 2020
About the Author
Lun Zhang was a young sociology teacher, in charge of the movement's security when the events occurred in Tiananmen Square in 1989. Forced to flee China, he became a refugee in France where he now lives and works as a professor of Chinese civilization.