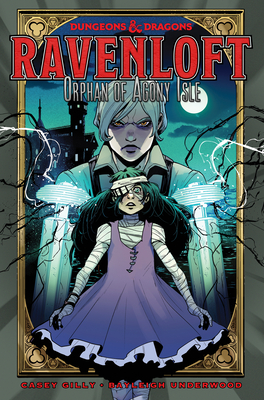 Dungeons & Dragons
Ravenloft--Orphan of Agony Isle (D&D Ravenloft #1)
Paperback

* Individual store prices may vary.
Description
DISCOVER the Demiplane of Dread! In her castle laboratory, D&D's own mad scientist, Dr. Viktra Mordenheim, performs experiments testing the bounds of science and magic!

THRILL to a Castle of Horrors! Following a terrible accident, Miranda awakens in Schloss Mordenheim under the questionable care of the definitely-not-lawful-good doctor, with no memory of who she is. Desperate to learn about her past, she soon begins to question what she is told and test the strictures placed upon her. Gentle Reader, the truth she uncovers will SHOCK and DISTURB you!

SHUDDER at a Menagerie of Monsters! A collection of lab notes detail the tragic fates of Ravenloft's unfortunate inhabitants, in a collection of supplementary stories by writers Casey Gilly, Ryan Cady, and Ro Mediavilla, and artists Corin Howell, Vincenzo Riccardi, and Kayla Felty.
We must caution you, Dear Reader, these are not tales for the faint of heart!
IDW Publishing, 9781684059560, 96pp.
Publication Date: March 14, 2023
About the Author
Casey Gilly is a comics writer, horror fan, and mother to a young boy. The first two prepared her for the third. Her work includes Buffy the Last Vampire Slayer, My Little Pony: Generations, Star Wars Adventures, and My Little Pony: A New Generation. She lives in Portland, OR, where she spends most of her time raising her son to be a dashing YA villain, writing dashing YA villains, and bringing home cursed items from thrift stores.

Bayleigh Underwood is a comic artist and illustrator based in North Carolina who specializes in monsters, swords, and action scenes. They are the co-creator of the graphic novel It Took Luke and have illustrated multiple short comics including Reflection, Marvel Action: Chillers, and The Last Champion. Outside of comics they do their best to take care of their three rowdy cats, listen to screamo music, and go on hikes with their partner.