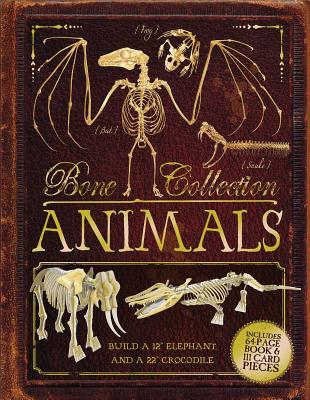 Bone Collection (Mixed media product)
Animals
Silver Dolphin Books, 9781684122493, 64pp.
Publication Date: July 23, 2019
* Individual store prices may vary.
Description
Learn about your favorite animals from the inside out!

From gorillas to kangaroos, get ready to explore the insides of some of your favorite animals and the specialized body parts that help these animals thrive in their habitats. Bone Collection: Animals features dozens of animals with detailed illustrations of their skeletons and information about how their bodies help them move, hunt, and avoid predators. After reading about animals on land, in the water, and in the sky, kids can build an elephant and a crocodile model!

2018 National Parenting Product Awards Winner
"Bone Collection: Animals is perfect for your curious kids," says NAPPA Director Elena Epstein. "There is so much to explore on every page as your kids learn about the insides of some of their favorite animals. This is one of those books that the whole family will enjoy discussing."

"Sturdy enough for repeated use, this book-kit would be a popular addition to makerspaces or classrooms." —Julia Smith, Booklist
About the Author
Rob Colson is an author and editor of a wide range of books for children and adults, including many natural history, math, and science titles. Previous titles as author include the following: Wayland: Ultimate Cars, Ultimate Machines (Wayland); Super Science (Franklin Watts), Bone Collection: Animals (published by Scholastic), Puzzles, Conundrums and Enigmas (published by Parragon). Colson was also a contributing author to Battle (DK).

Sandra Doyle is a scientific illustrator with thirty years of experience, specializing in bugs and insects. She studied at Middlesex University in England and currently lives in London, where she is a digitizer for the Zoological Society Library.

Elizabeth Gray is an experienced illustrator of many children's books. She has worked on many books on the topics of anatomy and natural history, including The Ultimate Book of Bones and Skeletons: An Inside Look at Animals. Her meticulous art style brings her subjects to life with exquisite detail.

Steve Kirk is a published author and illustrator of children's books. He has worked on many popular natural history books, including Bugs Before Time: Prehistoric Insects and Their Relatives, Dinosaurs (Oxford Reds), and Dinosaur Skeletons and Other Prehistoric Animals (Weird and Wonderful).
Praise For Bone Collection: Animals…
Bone Collection: Animals.
By Rob Colson. Illus. by Sandra Doyle, Elizabeth Gray, Steve Kirk
2019. 64p. Silver Dolphin, paper, $18.99 (9781684122493). Gr. 2–4. 590
Aesthetically reminiscent of the Ology books, this attractive compendium boasts a diverse assortment of vertebrates, from fish to snakes to penguins to lions. Double-page spreads are dominated by artistic renderings of each animal's skeleton, with select bones labeled, highlighting commonalities or purpose. For example, the red kangaroo has a special bone for pouch support. Interesting facts, depictions of each animal's size relative to an adult human, and (nonskeletal) photos of the animal scatter around the central illustration for a scrapbook effect. Books in the Bone Collection series (3 titles) are attached to a modelbuilding kit equipped with cardboard bones that readers can assemble, in this instance, into African elephant and Nile crocodile skeletons. Sturdy enough for repeated use, this book-kit would be a popular addition to makerspaces or classrooms.
— Julia Smith