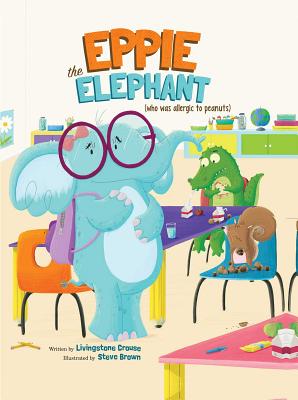 Eppie the Elephant (Who Was Allergic to Peanuts) (Hardcover)
Silver Dolphin Books, 9781684123773, 40pp.
Publication Date: August 7, 2018
* Individual store prices may vary.
Description
Go on a school-time adventure with Eppie, the elephant who is allergic to peanuts!

It's the first day of school for Eppie the elephant, and she's a bit nervous about one thing: that her new classmates won't understand her allergy to nuts. Like many kids today, this fun-loving elephant can't partake in peanuts, pecans, or pistachios and has to be careful about what she eats. Eppie makes fast friends with Allie the alligator and Pearl the squirrel, but when Eppie's allergy is explained at lunch, will her friends still stand by her side? Readers of all ages will relate to this heartwarming, lyrical story of understanding and acceptance.
About the Author
Livingstone Crouse has spent the last twenty years either selling, editing, or writing books for children. He's even done all three at once! So recently he decided he'd focus entirely on writing the kinds of books he likes to read—books in verse that are filled with heart, word-play, and lots of laughs. Livingstone lives in a large, 200-year old farmhouse in New York's Hudson Valley with his husband and a dog named Kat. (And you can be fairly certain that Livingstone Crouse is not his real name. But don't tell anyone!)

Steve Brown is a freelance children's illustrator from Kent, England. Steve has been drawing since he can remember, and grew up with the best cartoons from the 1970s, '80s, and '90s, which have been a big influence on his style and sense of humor. Traditional mediums he uses are brush pen, watercolor, and Copic markers, but now he mostly works digitally. Steve has produced work for various publishers in the UK and U.S., and recently illustrated books for Cambridge University Press and Franklin Watts (Part of the Hachette group). He has a passion for character design and telling stories through illustration, and likes to use humor in his illustrations to make things fun. When he's not drawing, he's looking after his three little monsters with his amazing wife or...he's flying around the world saving people from danger as his alter ego DARK FLAME. (But keep that under your hat!)