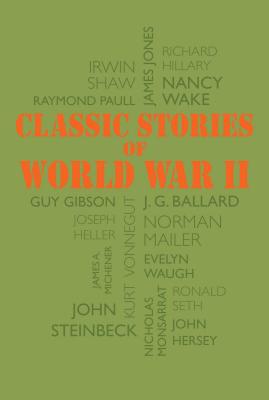 Classic Stories of World War II (Paperback)
Canterbury Classics, 9781684124220, 256pp.
Publication Date: May 8, 2018
* Individual store prices may vary.
Description
A collection of the greatest stories ever written about World War II.

World War II brought grief and destruction, but it also inspired some of the most impassioned literature in history. Classic Stories of World War II includes excerpts from novels such as James Jones's From Here to Eternity and Joseph Heller's Catch-22, as well as real-life accounts of the Battle of Britain by Guy Gibson and the exploits of the French Resistance by Nancy Wake. More than a dozen riveting stories of the war from esteemed authors are featured, providing the reader with a rich variety of perspectives that will bring a new understanding of this global conflict.
About the Author
John Steinbeck (1902–1968) was among the most influential American authors in modern history, best known for his stirring and realistic portrayals of life in California's Salinas Valley during the Great Depression. His most acclaimed works include Of Mice and Men, Cannery Row, East of Eden, and The Grapes of Wrath, for which he won a Pulitzer Prize in 1940. Steinbeck also won a Nobel Prize for literature in 1962, and in 1998, the American publishing house Modern Library listed The Grapes of Wrath as the tenth-best English-language novel of the 20th century. Born in Salinas, California, Steinbeck wrote twenty-seven books before his death at the age of 66.

James A. Michener (1907–1997) was an American author, best known for multi-generational works of historical fiction. His most famous novels include Hawaii, Chesapeake, Texas, Alaska, The Fires of Spring, and Tales of the South Pacific, for which he won a Pulitzer Prize in 1948 and which was adapted into the Broadway musical South Pacific in 1949. Born in Bucks County Pennsylvania, Michener wrote more than forty books before his death at age 90 in Austin, Texas.

Kurt Vonnegut (1922–2007) was an American author and playwright, whose most famous novel is Slaughterhouse-Five. Born in Indianapolis, Vonnegut published fourteen novels, five plays, and many other works before his death at the age of 84.

Norman Mailer (1923–2007) was an American author, essayist, journalist, and playwright. His most acclaimed works include The Armies of Night (1968) and The Executioner's Song (1979), both of which won Pulitzer prizes. Born in New Jersey, Mailer was a prolific writer who crafted more than twenty-five books and at least 45,000 letters before his death at the age of 84.

J. G. Ballard (1930–2009) was a British author and essayist. Although he found success as a science fiction and experimental writer, his best-known novel was the Empire of the Sun (1984), which told the story of a young British boy living in China under Japanese occupation during World War II. The story drew on Ballard's own childhood experience in Shanghai in the 1930s and '40s, where he spent two years in the Lunghua Civilian Assembly Centre, an internment camp for British and American civilians. Throughout his life, Ballard published more than fifteen novels and many more short stories and essays. He died in London at the age of 78.