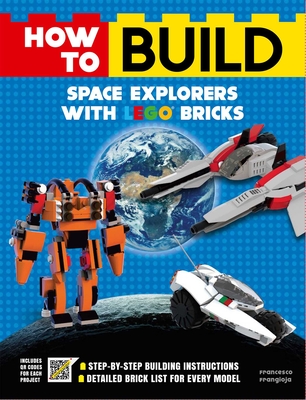 How to Build Space Explorers with LEGO Bricks (Paperback)
Thunder Bay Press, 9781684125418, 208pp.
Publication Date: October 16, 2018
* Individual store prices may vary.
Description
Let your creativity take off with these LEGO builds!

Explore the LEGO galaxy by creating these exciting space adventure vehicles! The 208-page paperback instruction book includes full-color photos and easy step-by-step directions for each model. QR codes will direct you to video instructions online for each build as well. These stellar building ideas will rocket you into new worlds with LEGO!
About the Author
Francesco Frangioja, born in 1971, is a LEGO® enthusiast and builder. He rediscovered his love for LEGO® bricks in 2010, and immediately began an active collaboration with several communities of LEGO® enthusiasts (AFOL—Adult Fans of LEGO®). He's especially interested in the ludic-educational aspects of "playing with LEGO® bricks" concerning children. In 2016, he decided to "expand" his passion for LEGO® bricks to the professional sphere, obtaining the certification of Facilitator in the LEGO® SERIOUSPLAY® Method from the Association of Master Trainers in the LEGO® SERIOUSPLAY® Method. He subsequently started planning and holding workshops at private companies and public corporations.