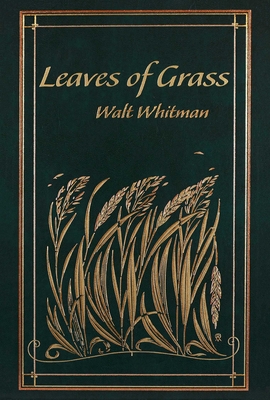 Leaves of Grass (Leather-bound Classics) (Hardcover)
Canterbury Classics, 9781684125555, 592pp.
Publication Date: October 2, 2018
Other Editions of This Title:
Paperback (5/26/2017)
Paperback (8/15/2017)
Paperback (2/9/2018)
Paperback (2/15/2019)
Paperback (10/13/2017)
Paperback (8/20/2017)
Paperback (5/1/2018)
Paperback (8/8/2019)
Paperback (10/1/2019)
Paperback (10/26/2018)
Paperback (2/17/2018)
Paperback (4/8/2018)
Paperback (7/2/2018)
* Individual store prices may vary.
Description
A timeless collection of hundreds of poems that resonate to the American spirit.  

Leaves of Grass is a timeless collection of poems and essays penned by influential nineteenth-century writer Walt Whitman. This profound compilation explores topics such as nature, mysticism, mortality, transcendentalism, and democracy. Inspired by personal experiences and observations, Whitman spent almost four decades piecing together the complete work, sharing societal ideals and epiphanies about life that still resonate with readers today. This sturdy leather-bound edition of the complete Leaves of Grass also includes Whitman's preface to the original 1855 edition, in which he expounds on his personal philosophy of writing poetry.
About the Author
Walt Whitman (1819–1892) was an American poet, essayist, and journalist. He was part of the humanist movement, and his work was controversial in its time. His best-known work is Leaves of Grass.

Kenneth C. Mondschein has a Ph.D in history from Fordham University (defense passed December 18, 2009). His expertise is in Western history from antiquity to the present, with a specializations in the Middle Ages and Renaissance, global expansion and colonization, and the history of science and technology. He also holds a Master of Arts in History from Boston University.