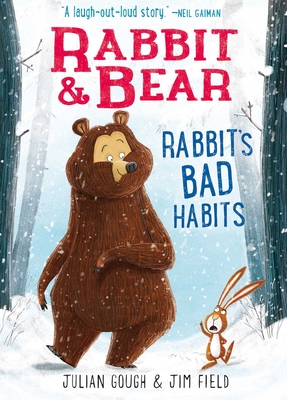 Rabbit & Bear (Hardcover)
Rabbit's Bad Habits
Silver Dolphin Books, 9781684125883, 112pp.
Publication Date: January 8, 2019
* Individual store prices may vary.
Description
Avalanches, snowmen, a hungry wolf…and more!

When Bear wakes up early from her hibernation, she decides to build a snowman. Her grumpy neighbor, Rabbit, decides to build an even better one. Rabbit & Bear: Rabbit's Bad Habits is full of laugh-out-loud moments and chronicles the forming of an unlikely friendship. With illustrations throughout, this chapter book is perfect for middle grade readers and is sure to become a fun favorite on any kid's bookshelf.
Praise For Rabbit & Bear: Rabbit's Bad Habits…
A bear's kindness and generosity sweeten a grumpy rabbit's sour outlook in this wintry woodland encounter. Gough aims both high and low. On the one hand, he shows how the peaceable responses of Bear, equanimity unshaken despite discovering that her food stores have disappeared, to Rabbit's rude comments and behavior gradually work a profound change in his character—and on the other, in the course of their exchanges, he has the long-eared lagomorph deliver a clinically explicit, hilariously extended disquisition on why his kind eats its own poo. Bear goes even further, saving Rabbit from an attacking wolf and then, when he shamefacedly produces the food that he had (yes) stolen earlier, inviting him to join her for a moonlit picnic and a snuggle in her cozy den. The narrative, laid out in short, well-leaded lines, likewise snuggles on every page with Field's duotone cartoon scenes of the two furry figures meeting, parting, starting separate snowmen but ultimately coming together to finish one, and finally sharing a honeycomb and other goodies before bedding down in the warm den. When, showing a newly awakened sense of compassion, Rabbit wonders if the snowman is lonely, Bear has the perfect solution: "In the morning," she murmurs drowsily, "we can make him a friend." Young readers will come away with fresh insights into both poo and peacemaking. (Animal fantasy. 6-8)
— Starred Review
or
Not Currently Available for Direct Purchase