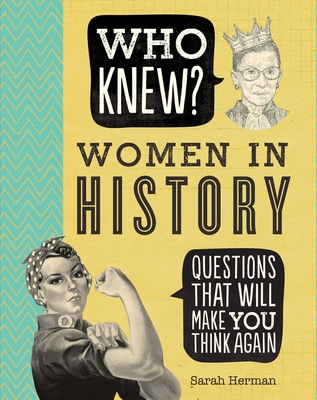 Who Knew? Women in History (Paperback)
Portable Press, 9781684127870, 224pp.
Publication Date: July 9, 2019
* Individual store prices may vary.
Description
Brush up on your knowledge of prominent women through the ages, from across the globe, and in all walks of life.

Who Knew? Women in History is a compendium of more than a hundred articles about women who have played a prominent role in world history. After reading this book, you'll be the center of attention at any party or around the water cooler as you spout forth impressive answers to questions such as: What made Catherine the Great so great? Who was the "Mother of the Atom Bomb"? Where in the world did women first gain the right to vote? Each chapter includes a quiz at the end to test your knowledge. These tidbits of trivia will leave everyone shaking their head and saying "Who knew?" The answer to that question, of course, will be: You knew!
 
About the Author
Sarah Herman is a British writer and editor. She has written for Total Film, Star Wars Insider, and the official magazines for Lost, Grey's Anatomy, and CSI. She has edited a number of other publications, including The Ingenue, The Lab Magazine, and Get Fresh!, and is the author of three books about LEGO, The Classic Guide to Famous Assassinations, and the bestselling Does Anything Eat S**t? She resides in the fine city of Norwich, England.