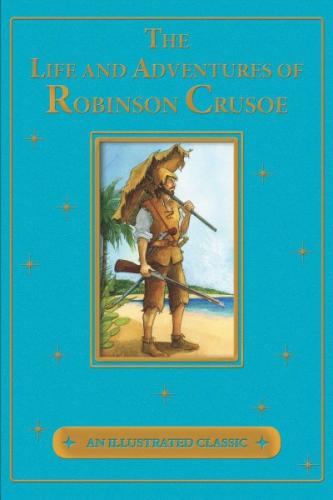 The Life and Adventures of Robinson Crusoe (An Illustrated Classic)
Hardcover

* Individual store prices may vary.
Other Editions of This Title:
Paperback (5/29/2010)
Paperback (5/29/2010)
Paperback (5/29/2010)
Paperback (12/3/2013)
Paperback (11/23/2015)
Paperback (8/14/2008)
Paperback (9/28/2013)
Paperback, Large Print (8/14/2008)
Paperback (1/5/2016)
Paperback (11/23/2015)
Paperback (11/24/2015)
Paperback (10/1/2018)
Paperback (5/29/2010)
Paperback (5/29/2010)
Paperback (10/2/2012)
Paperback (11/23/2007)
Paperback (2/2/2009)
Paperback (6/16/2010)
Paperback (5/29/2010)
Paperback (5/10/2014)
Description
Escape the Island of Despair with Robinson Crusoe!

Pirates, shipwrecks, and being stranded on an island doesn't stop Robinson Crusoe in his quest for adventure on the high seas. Originally presented as a true account, Daniel Defoe's novel made quite a stir in 1719 and became one of the most widely published books in history, spawning enough imitations that it inspired its own genre, the Robinsonade. Bound in a beautiful cloth cover with full-color illustrations inside and foil stamping on the front, this exciting volume in our Illustrated Classics series will be a welcome addition to any home library.
Canterbury Classics, 9781684127931, 352pp.
Publication Date: May 7, 2019
About the Author
Daniel Defoe (1660–1731) was an English writer, trader, and journalist who wrote more than 300 works on a variety of topics that included politics, religion, psychology, crime, and more.

Walter Stanley Paget (1865–1935) was a British illustrator.

Tom Sperling was raised in DeLand, Florida, and earned his degree at St. Andrew's College in North Carolina before moving to New York City to work as an assistant curator at the Museum of Modern Art. With his real interest in illustration, Sperling began attending The Art Student's League where he studied under Steven Katz, a leading illustrator from the 1930s to the 1950s. His first professional works were a series of murder mystery covers for Harper Collins. He also did freelance work for children's magazines and was twice awarded the Paul Revere Award for Graphic Excellence. Sperling's first picture book was Big Bill, a "bad dog" story for Scholastic. He has since illustrated more than fifty book. Sperling also worked extensively England and continues editorial work for a range of clients including The New York Times and CBS Television. Basically, he likes reading something and then imagining how it might look. Sperling currently splits his time between his hometown in Florida and Somerset in the UK.