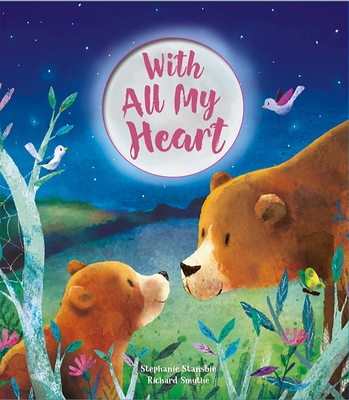 With All My Heart
Hardcover

* Individual store prices may vary.
Description
This illustrated picture book with die-cut pages is the perfect read to share with your little one! 

Share the love between a parent and child in With All My Heart. This beautifully illustrated picture book showcases the lifelong love a parent has for their child. Each page features sweet text paired with shaped die-cuts for a unique reading experience. With All My Heart is the perfect book to cuddle up with and to express the endless love between a parent and child. 

"Stansbie seems to have hit a sweet spot for this offering on the I-love-you-always shelf." —Kirkus Reviews
Praise For With All My Heart…
A caregiving bear shares with its cub how love has defined their relationship from the first moment and through the years as the cub has grown. With rhymes and a steady rhythm that are less singsong-y than similar books, Stansbie seems to have hit a sweet spot for this offering on the I-love-you-always shelf. Readers follow the adult and child as they share special moments together—a sunset, a splash in a pond, climbing a tree, a snuggle—and the adult tells the child that the love it feels has only grown. Stansbie also takes care not to put promises in the adult bear's mouth that can't be delivered, acknowledging that physical proximity is not always possible: "Wherever you are, / even when we're apart… // I'll love you forever / with all of my heart." The large trim size helps the sweet illustrations shine; their emphasis is on the close relationship between parent and child. Shaped peekaboo windows offer glimpses of preceding and succeeding pages, images and text carefully placed to work whatever the context. While the die cuts on the interior pages will not hold up to rough handling, they do add whimsy and delight to the book as a whole: "And now that you're bigger, / you make my heart sing. / My / beautiful / wonderful / magical / thing." Those last three adjectives are positioned in leaf-shaped cutouts, the turn of the page revealing the roly-poly cub in a pile of leaves, three formed by the die-cuts. Opposite, three vignettes show the cub appreciating the "beautiful," the "wonderful," and the "magical." Sweet. (Picture book. 3-5)
— Kirkus Reviews
Silver Dolphin Books, 9781684129102, 32pp.
Publication Date: December 3, 2019
About the Author
Stephanie Stansbie has been a children's books editor since the '90s and an author since the noughties. She adores editing and writing in equal measure and has always worked on illustrated books, where the art is as important as the word. The books she has authored have been translated into 14 different languages. Stephanie lives in Oxford and enjoys mucking about with her family and practicing capoeira.

Richard Smythe started his career drawing on his sister's homework and his bedroom wall. Some years later, he went to university to hone these skills. For the last few years, he has been working in the wonderful world of picture books and loves every second of it. Because no matter how simple the story, you can always read between the lines.
or
Not Currently Available for Direct Purchase