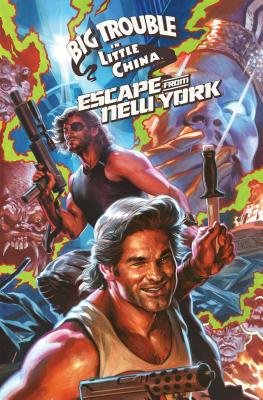 Big Trouble in Little China/Escape From New York (Paperback)
BOOM! Studios, 9781684150083, 160pp.
Publication Date: September 19, 2017
Other Editions of This Title:
Paperback (9/10/2019)
Paperback (9/4/2018)
Paperback (6/9/2015)
Paperback (5/17/2016)
Hardcover (12/26/2017)
* Individual store prices may vary.
Description
It's the mother of all crossovers as Jack Burton and Snake Plissken meet for the first time ever anywhere for the adventure of a lifetime!

Jack's big-hearted. Snake's cold-hearted. Jack's lucky. Snake's deadly. Jack can't shut up. Snake loves shutting people up. And they drive each other CRRAAAAAZY! Prepare for the roadtrip of a lifetime. Jack Burton and Snake Plissken haul the Pork-Chop Express across the dystopian planes of America to stop their worlds from coming to an end.

Written by Greg Pak (World War Hulk, Action Comics) and illustrated by Russ Manning Award-nominated artist Daniel Bayliss (Kennel Block Blues) comes the John Carpenter sanctioned crossover event that will shake the pillars of heaven and prove once and for all that Snake Plissken lives on.
About the Author
Greg Pak is a comic book writer and filmmaker best known for "Action Comics" and Batman/Superman" for DC Comics, "Planet Hulk" and "Magneto Testament" for Marvel Comics, and the "Code Monkey Save World" graphic novel and "The Princess Who Saved Herself" children's book, based on the songs of Jonathan Coulton. He directed the award-winning feature film "Robot Stories" and dozens of shorts, including "Happy Fun Room." He was named one of 25 Filmmakers to Watch by Filmmaker Magazine, described as "a talent with a future" by the New York Times, and named "Breakout Talent" of the year by Wizard Magazine.