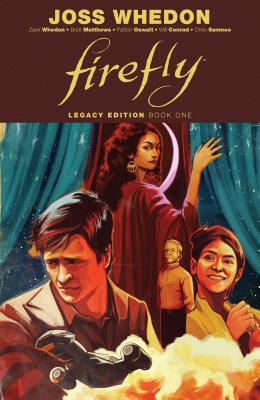 Firefly
Legacy Edition Book One
Paperback

* Individual store prices may vary.
Other Editions of This Title:
Paperback (2/12/2019)
Description
For the first time, the official sequels to the critically acclaimed show Firefly are collected under one cover!

The Serenity rides again, in these official sequels to the critically acclaimed show Firefly, collected for the first time under one cover! Buried histories and secret identities are revealed, along with all the heist-takin', authority-dodgin', death-defyin' space-cowboyin' you've been missing from your life, as this ragtag crew of mercenaries, outlaws, and fugitives travel the stars in search of their next adventure.

Collects the following previously released material:

* Serenity: Those Left Behind #1-3
* Serenity: Better Days #1-3
* "Serenity: The Other Half"
* "Serenity: Downtime"
* Serentity: The Shepherd's Tale
* Serenity: Float Out #1
* "It's Never Easy"
BOOM! Studios, 9781684153206, 288pp.
Publication Date: November 20, 2018
About the Author
Joseph Hill Whedon is an American film director, producer, writer, and composer. He is the founder of Mutant Enemy Productions, co-founder of Bellwether Pictures, and is best known as the creator of several television series. These include Buffy the Vampire Slayer (1997–2003), Angel (1999–2004), Firefly (2002), Dollhouse (2009–2010), and Agents of S.H.I.E.L.D. (2013–2020).

Whedon co-wrote for the Pixar animated film Toy Story (1995) (for which he was nominated for the Academy Award for Best Original Screenplay), wrote and directed the Firefly film continuation Serenity (2005), co-wrote and directed the Internet miniseries Dr. Horrible's Sing-Along Blog (2008), and co-wrote and produced the horror comedy film The Cabin in the Woods (2012). He wrote and directed the Marvel Cinematic Universe superhero films The Avengers (2012) and its sequel Avengers: Age of Ultron (2015), and also co-wrote the script for the DC Extended Universe superhero film Justice League (2017). He also served as director for Justice League on re-shoots, replacing Zack Snyder (who retained directorial credit).

Actors Ray Fisher, Charisma Carpenter, Michelle Trachtenberg and Amber Benson have complained publicly about Whedon's behavior on set. WarnerMedia investigated Fisher's allegations and announced that they had taken "remedial action" in December 2020.