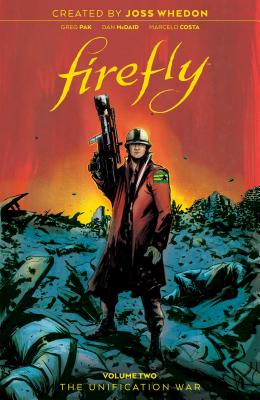 Firefly
The Unification War Vol 2
Hardcover

* Individual store prices may vary.
Other Editions of This Title:
Hardcover (4/30/2019)
Hardcover (5/5/2020)
Paperback (1/5/2021)
Description
The secret history of the Unification War and the mistakes Captain Malcolm Reynolds has been hiding from his crew are revealed when Mal and his first mate Zoe are finally called to confront their crimes.

The official continuation of the pop culture phenomenon from visionary writer & director Joss Whedon (Buffy the Vampire Slayer, Marvel's The Avengers)! The truth behind the Unification War continues to be revealed as Captain Malcolm "Mal" Reynolds and his First Mate Zoe Washburn are arrested for crimes committed during the Unification War by the mysterious Boss Moon and her Unificators! But their escape from captivity might land them in even greater danger, as secrets are revealed and nothing will ever be the same for the crew of the Serenity!

New York Times bestselling author Greg Pak (Star Wars, Mech Cadet Yu) and fan favorite artist Dan McDaid (Judge Dredd) continue their critically acclaimed series with shocking new revelations!
BOOM! Studios, 9781684154340, 144pp.
Publication Date: December 17, 2019
About the Author
Joss Whedon is an American producer, director, screenwriter, comic book writer, and composer. He is the creator of pop culture phenomenons Buffy the Vampire Slayer, Firefly, Angel, and Agents of S.H.I.E.L.D. He wrote and directed Marvel Cinematic Universe films The Avengers and The Avengers: Age of Ultron. He is also known for his internet series Dr. Horrible's Sing-Along Blog.