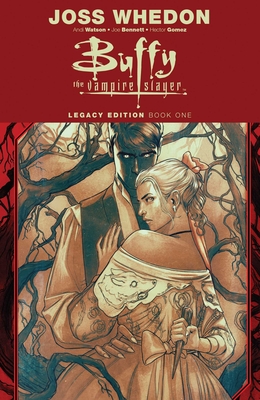 Buffy the Vampire Slayer Legacy Edition Book One (Paperback)
BOOM! Studios, 9781684154999, 320pp.
Publication Date: April 14, 2020
Other Editions of This Title:
Paperback (8/11/2020)
* Individual store prices may vary.
Description
The definitive collection of every Buffy the Vampire Slayer comic, for the first time presented in publication order!

THE OFFICIAL TIE-IN TO JOSS WHEDON'S AWARD-WINNING BUFFY THE VAMPIRE SLAYER TELEVISION SERIES! Set during the third season of the Buffy The Vampire Slayer television series, discover untold stories of the Scooby Gang and their fight against evil in Sunnydale - all while trying not to fail their exams! As Buffy faces the consequences of saving the world - by killing the man she loved - the rest of the team face their own challenges like Angel returning to life without a soul; Willow helping Oz confront the beast inside of him; all while Xander and Cordelia kiss, makeup, kiss, makeup...you probably get the picture.

Collects Buffy The Vampire Slayer #1-10 (Dark Horse Comics), as well as short stories from the era. Legacy Editions collect for the first time every issue of the most popular BOOM! Studios series in chronological order, in a newly designed, value priced format.