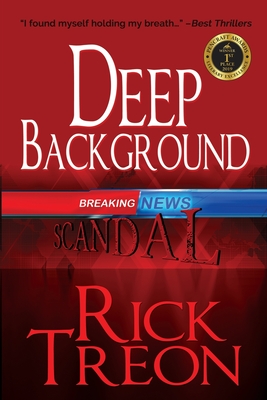 Deep Background
Paperback

* Individual store prices may vary.
Description
"An intelligent, textured and taut thriller about political corruption through the lens of a disgraced journalist." -Best Thrillers
When reporter Levi Cole returns to his rural Texas hometown to help a colleague and married ex-girlfriend report on a murder, he finds out he's caught in a deep conspiracy.
Two years after an anonymous tip helps reporter Levi Cole break one of the biggest political scandals in recent memory, the same unknown conspirators expose him for fabricating parts of his stories. After resigning from his cushy job in Dallas, Levi returns to his rural Texas Panhandle hometown to regroup and win over Kat Hallaway - the married woman and fellow reporter he left behind - by helping her cover a grisly murder. But, as Levi and Kat get close to unraveling the mystery, she is kidnapped by the killer. When Levi finally finds Kat, he learns the identity of his tormentors and how they connect to the murder. Faced with the truth, Levi must decide how far he will go to rescue the woman he loves and regain control of his life.
Black Rose Writing, 9781684331673, 228pp.
Publication Date: December 6, 2018