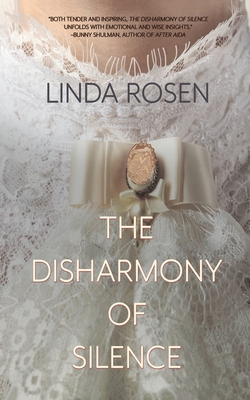 The Disharmony of Silence
Paperback

* Individual store prices may vary.
Description
"Rosen paints a vivid picture of a family torn apart then shows us what true family means." -Pamela Taylor, author of the Second Son Chronicles
In 1915, jealous, bitter Rebecca Roth cuts all ties with her life-long friends, the Pearls. Eight years later, Rebecca's son and young Lena Pearl begin keeping company in secret. Rebecca agrees to a truce when the couple marries. But the truce is fragile. Rebecca's resentments run deep.
In 2010, Carolyn Lee, fitness instructor and amateur photographer, must come to grips with the fact that her mother's imminent death will leave her alone in the world. While preparing her childhood home for sale, she realizes for the first time that her mother's antique brooch is identical to the one pinned to the lady's dress in the painting hanging above the fireplace. Coincidence or connection? Carolyn is determined to find out. What she discovers has the potential to tear lives apart or to bring her the closeness and comfort she longs for. It all depends on how she handles her newfound knowledge.
Black Rose Writing, 9781684334308, 296pp.
Publication Date: March 5, 2020