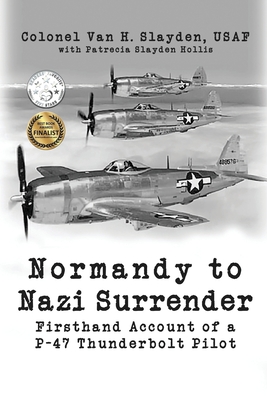 Normandy to Nazi Surrender
Firsthand Account of a P-47 Thunderbolt Pilot
Paperback

* Individual store prices may vary.
Description
The late Van Slayden trained on the PT-3 kite-like biplane in 1937, but he learned fighter pilot operations flying "by the seat of his pants," walking away from five crashes. Shortly after the invasion of Normandy, he landed on Utah Beach to help establish a US Army Air Forces' (AAF's) presence in Europe. He flew the P-47 Thunderbolt, a fighter-bomber, in combat over Northern France and commanded the 36th Fighter Group-the "Fightin' 36th-at Batogne, St. Vith, the Bridgehead at Remagen, Operations Grenade, Clarion, Varsity and other missions. His 22nd Fighter Squadron was the first in the AAF to land voluntarily on German soil.
He was deep into Germany when the Nazis surrendered on May 8, 1945, which was remarkably anticlimactic. Van Slayden, a country boy from rural Tennessee, like so many of his contemporaries, stepped up to the challenge as part of the Greatest Generation.
Black Rose Writing, 9781684336234, 150pp.
Publication Date: November 25, 2020