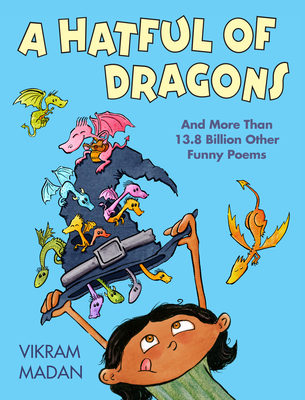 A Hatful of Dragons
And More Than 13.8 Billion Other Funny Poems
Hardcover

* Individual store prices may vary.
Description
Ideal for fans of Jack Prelutsky and Shel Silverstein, this collection of hilarious poems is perfect for any young reader who likes to read — and laugh!

This funny poetry book is full of unusual characters: panda and pangolin musicians, mail-order eggs that hatch dinosaurs (surprise!), ten aliens with a garden-gnome pal, a robot uncle, lots and lots of dragons, and a professor who uses his Page Machine to travel to multiple pages within the book. Vikram Madan's ingenious poems take many forms, from limerick to rebus to a fill-in-the-blank poem that offers more than 13.8 billion funny combinations. All feature clever wordplay, impeccable rhythm and rhyme, and riotous punchlines. This is a quirky collection of poems that readers will laugh their way through again and again.
Praise For A Hatful of Dragons: And More Than 13.8 Billion Other Funny Poems…
Texas Bluebonnet Book Award Master List 2021-2022
South Dakota Prairie Bloom Book Award Finalist 2022-2023
A Bank Street College of Education Best Book of the Year 2021
A New York Public Library Best Books for Kids 2020
A Denver Public Library Best and Brightest Poetry Book of 2020
An Evanston Public Library 101 Great Books for Kids 2020
School Library Journal's Fuse #8 Blog - 2020 Best Poetry Books
School Library Journal's Fuse #8 Blog - 2020 Funniest Books of the Year
American Library Association ALSC Summer Reading Pick 2021
A Kirkus Reviews Best Book

★"A loopily meta collection of silly, interactive poetry. Madan's collection of rhymed verse lives up to its subtitle thanks to a poem with 12 numbered blanks and 12 lists of seven words or phrases each to insert, mix-and-match style, in those blanks…that equals seven-to-the-12th-power possible poems! You do the math. There is a 'cracked-concrete' poem (some of the words have fallen to the bottom of the page), a rebus chant composed entirely of pictures of Australian animals, and some poems in comic strips. The cast appears to be of many races and species. This collection will encourage several giggle-filled read-throughs." — Kirkus Reviews, starred review

​"Silly wordplays, letters all over the place, fill-in-the-blanks, and funky pictures make this poetry collection a delight!" — The New York Public Library's Best Books 2020 Committee

"For kids who have not yet found poetry that speaks to them, try this gleeful tour of various poetic forms, accompanied by silly cartoon illustrations... A HATFUL OF DRAGONS lets readers know that poetry can be seriously fun through rollicking rhymes and hybrid comic book styling." — The Denver Public Library's Best and Brightest Books Committee

​"Hilarity abounds in this wild and wacky conglomeration of unique (and goofy) poems! Expect 13.8 billion laughs!" — The Evanston (IL) Public Library's 101 Great Books for Kids 2020 Committee
​
​"What a delightful surprise! These poems are fantastic! So inventive and funny... hand this to your Silverstein/Prelutsky fans" — Betsy Bird, School Library Journal Fuse 8 Blog (2020 Poetry Books List, 2020 Funniest Books List)

​"Hilarious, great illustrations, and a BRILLIANT use of surprising page turns!" — Josh Funk, Author of the Lady Pancake & Sir French Toast series

​"A HATFUL of DRAGONS is a fun, rhythmic, and sometimes interactive collection of illustrated poems, many of which beg to be read aloud. .. a nice complement to the classic, illustrated, poetry of Silverstein, Prelutsky, and Dahl." — Richie Partington, Richie's Picks

"A fun, fresh poetry book to use with your students or kids... the book is filled with rhyming poems... poetry styles ... sophisticated language ... figurative language... with humor, zany adventures, this book will surely be a hit with any poet!" — StoryMamas Book Reviews

​​"Vikram Madan's collection of poems is deliciously daft... it's pretty near impossible to pick favorites ... it's just the kind of book that even those who claim not to like poetry might well change their minds after hearing a couple from Vikram Madan's' gloriously gigglesome gallimaufry" — Red Reading Hub

"The word that best describes this book rhymes with 'bilarious.'" — Adam Rex, author-artist of Frankenstein Makes a Sandwich
 
"With rigorous rhythm and rollicking rhyme, Vikram Madan's A Hatful of Dragons delivers a vatful of laughs!" — Douglas Florian, author-artist of Friends and Foes: Poems About Us All
Wordsong, 9781684371501, 64pp.
Publication Date: March 18, 2020
About the Author
Vikram Madan grew up in India where, despite spending his childhood rhyming and doodling, he ended up an engineer. After many years of working in the tech industry, he finally came to his senses, and here he is, having followed his heart back to rhyming and doodling again! His self-published books of funny poems The Bubble Collector and Lord of the Bubbles both won Moonbeam Awards for Children's Poetry. He lives near Seattle, Washington, with his family, two guitars, and a few pet peeves, and devotes himself to making whimsical and humorous art. Visit him at vikrammadan.com.
or
Not Currently Available for Direct Purchase