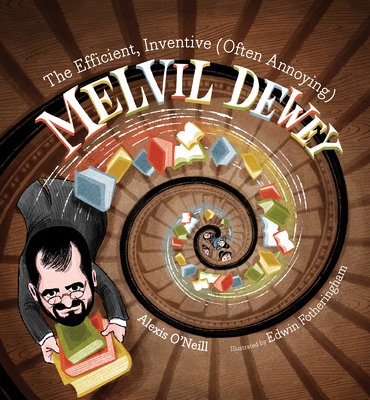 The Efficient, Inventive (Often Annoying) Melvil Dewey
Hardcover

* Individual store prices may vary.
Description
Bank Street College of Education Best Book of the Year

Who was Melvil Dewey? Learn how Dewey's love of organization and words drove him to develop and implement his Dewey Decimal system, leaving a significant and lasting impact in libraries across the country.

When Melvil Dewey realized every library organized their books differently, he wondered if he could invent a system all libraries could use to organize them efficiently. A rat-a-tat speaker, Melvil was a persistent (and noisy) advocate for free public libraries. And while he made enemies along the way as he pushed for changes–like his battle to establish the first library school with women as students, through it all he was EFFICIENT, INVENTIVE, and often ANNOYING as he made big changes in the world of public libraries–changes still found in the libraries of today!
Praise For The Efficient, Inventive (Often Annoying) Melvil Dewey…
"This picture-book biography of Melvil Dewey quickly establishes his love for efficiency. Chronological snapshots from his life express his desire to use order to help others, from rescuing books from a burning school to, most notably, developing a consistent numbering system for organizing library books. While some applauded his determination, others found Dewey manipulative and controlling. Bold, capitalized words in the text and digital, caricatured illustrations emphasize both sides of his personality. An author's note also considers the duality of Dewey's legacy. Well organized and thought-provoking, like Dewey himself." —Booklist

"Expectations will be delightfully upended by O'Neill's wry take on the—to put it charitably—single-minded Melvil Dewey. Rollicking humor dominates the text, but O'Neill gets serious in her endnotes, which comment on personality traits, professional practices, and bigotry that tarnished Dewey's reputation and toppled him from his professional pedestal. And there's a mini lesson on the structure of the DDC system as well, because inquiring minds might actually want to know." —The Bulletin of the Center for Children's Books

"O'Neill's breezy biography caroms through Melvil Dewey's quirks of efficiency—simplifying the spelling of his name, lecturing at '180 words per minute'—and achievements—advocating for public libraries, establishing the Dewey Decimal System, founding a school for librarians at Columbia, and educating women against the trustees' will, among other things. Fotheringham's crisp pictures...capture Dewey's whirlwind energy, showing him on the move and transformed into a speeding train. Back matter includes a timeline, a breakdown of the Dewey Decimal System, and information on the figure's other reforms." — Publishers Weekly

"Melvil Dewey, the white American librarian credited with creating the Dewey Decimal Classification, is depicted as equal parts brilliant and obnoxious. The breathless, run-on quality of O'Neill's prose, combined with Fotheringham's energetic digital illustrations, evoke a well-rounded portrait of a complicated man. This refreshingly honest title is recommended for collections where picture book biographies are in demand." —School Library Journal

"A panegyric for modern library science's most renowned and despicable founder." —Kirkus Reviews
Calkins Creek, 9781684371983, 40pp.
Publication Date: November 10, 2020
About the Author
Alexis O'Neill is the author of picture book biographies about people who made an impact on the world such as Homan Walsh (The Kite That Bridged Two Nations), Jacob Riis (Jacob Riis's Camera), and Melvil Dewey (The Efficient, Inventive (Often Annoying) Melvil Dewey) as well as books about friendship such as in The Recess Queen, and others. In addition to writing books for kids, she is an instructor for the UCLA Extension Writers' Program. The California Reading Association awarded Alexis the Dr. Marcus Foster Memorial Award for making significant and outstanding contributions to reading throughout California. She lives in southern California with her husband and can be reached at alexisoneill.com.

Edwin Fotheringham is the award-winning illustrator of many picture book biographies, including Full of Beans, Blue Grass Boy, What to Do About Alice?, and Those Rebels, John & Tom. He is also the illustrator of the "Tony Baloney" series by Pam Muñoz Ryan. Visit edfotheringham.com.